Former Sandusky charity board member sues charity for refund of donations
By ,
Published November 29, 2015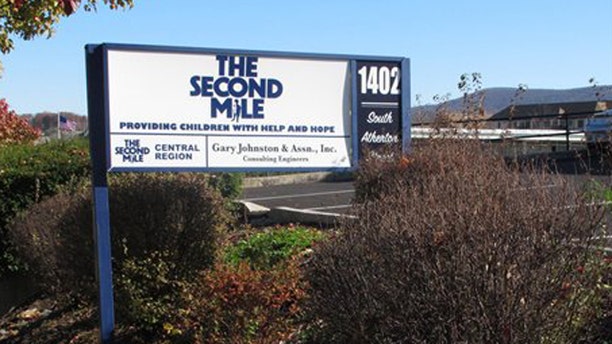 A Pennsylvania businessman and former board member of The Second Mile has sued the charity, seeking a refund of a $250,000 donation, The Patriot-News reported Wednesday.
Lance Shaner is seeking to get back the hefty contribution he provided to aid the construction of the Center for Excellence, a Second Mile project that was scrapped in the wake of the child sex abuse scandal involving the charity's founder Jerry Sandusky.
According to court documents, filed Tuesday, Shaner sent new Second Mile CEO David Woodle a letter in November requesting a refund of his donation, which he made in five separate payments of $50,000 between 2005 and 2010.
Court records indicated Woodle responded to Shaner's request two weeks later, acknowledging Second Mile had "received similar requests from [other] donors."
Woodle wrote that the charity's board of directors would honor Shaner's request "just as soon as it can obtain the necessary approvals from the Pennsylvania Attorney General and the appropriate court to make these refunds."
Shaner, who claimed he has not heard anything since Woodle's initial letter, dated Nov. 28, also named the Pennsylvania Attorney General's Office in the lawsuit.
Pennsylvania announced in November the state would put on hold a $3 million grant intended for the construction of the new 45,000-square-foot (4,180 square meters) facility.
Second Mile announced earlier this month it would put the 60-acre (24-hectare) site where the center was being built up for sale.
The charity also revealed in December it would be reducing its staff in light of declining financial support. The nonprofit reportedly is still in the process of deciding whether to close its doors permanently, change its name or transfer its programs to another organization.
Sandusky is accused of molesting 10 boys over a 15-year period. A grand jury report indicated Sandusky met his alleged victims through Second Mile, which he founded in 1977 to help disadvantaged children. He pleaded not guilty to the charges.
The scandal rocked the Penn State community, which had close ties to Second Mile and Sandusky, who served as an assistant coach on Joe Paterno's staff for 32 years before retiring in 1999.
Paterno, who was controversially fired in the wake of the scandal, died Sunday at age 85 following a brief bout with lung cancer. The iconic football coach was laid to rest Wednesday.
https://www.foxnews.com/us/former-sandusky-charity-board-member-sues-charity-for-refund-of-donations