Florida posthumously pardons 4 black men accused of sensational 1949 rape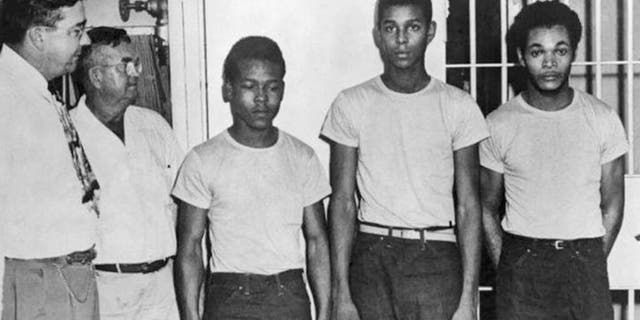 After a dramatic, hourlong meeting that recalled events from nearly seven decades ago, Florida Gov. Ron DeSantis and the state's three-member Cabinet granted posthumous pardons Friday to four African-American men accused of raping a white woman in a 1949 case now seen as a racial injustice.
The case of the men known as the Groveland Four has been documented in a book and is considered a blight on Florida's history. One of the four was killed before he could be charged and the other three were convicted on dubious evidence.
The families of the men accused of the assault told DeSantis and the Cabinet — meeting as the clemency board — that there is overwhelming evidence the men were innocent and there was no rape. The woman who was 17 when she said she was raped, sat in a wheelchair and later told Gov. DeSantis and the Cabinet the rape did indeed happen, saying she was dragged from a car, had a gun put to her head and was told not to scream or they would "blow your brains out."
At one point, the two sides briefly clashed. Beverly Robinson, a niece of one of the Groveland Four, was speaking to the governor and the Cabinet when she turned to the woman and her sons.
"It never happened. You all are liars," Robinson said.
"That's enough out of you," the woman said.
"I know it's enough out of me. It's always enough when you're telling the truth," Robinson replied.
The unanimous vote to pardon came almost two years after the state House and Senate voted to formally apologize to relatives of the Groveland Four and to ask then-Gov. Rick Scott to pardon the men. Scott, now a U.S. senator, never took action. DeSantis replaced Scott on Tuesday and made the pardons a priority.
"I don't know that there's any way you can look at this case and think that those ideals of justice were satisfied. Indeed, they were perverted time and time again, and I think the way this was carried out was a miscarriage of justice," DeSantis said.