Florida girl writes letter to burglar who targeted her house
By ,
Published March 13, 2017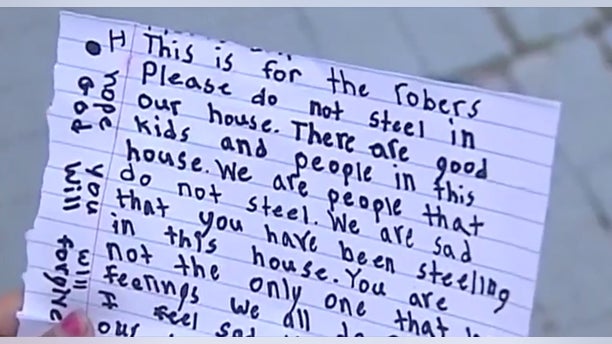 Donations were pouring in Monday for family members who claimed a burglar targeted their house in Florida, as an 8-year-old girl wrote her own heartfelt letter to the suspect.
TENNESSEE FIRE CHIEF'S HOME DESTROYED, DOG KILLED IN FIRE
"Please do not steel in our house. There are good kids and people in this house. We are people that do not steel. We are sad that you have been steeling in this house," part of the letter from Wendy Chay Son, taped to the front window of her home, read. "I hope you will change and be good. God will forgive you."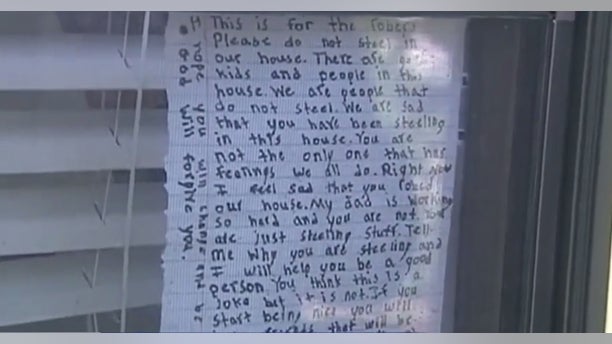 The family had been living in the Lake Worth home for just a few days before the burglars broke in last month, WPBF reported. "I wrote that letter so they could change and don't steal in anybody's house," the second-grader said.
TEEN GIRL'S BURNED BODY FOUND AT VEGAS APARTMENT COMPLEX
Supporters set up a GoFundMe page aiming to raise $3,500 -- to replace the stolen jewelry, electronics and shoes. As of Monday afternoon, they'd raised more than $1,100.
Organizer Mark Anthony Parrilla-Focarile said his mother lived nearby, so he felt compelled to help little Wendy. "I told the father we have to officially be brothers so she can be my niece. She calls me Uncle Mark," he told the Palm Beach Post.
Wendy's father, José Chay, said it was the first home his family bought in the U.S. He told the newspaper the worst loss was a tablet computer that his daughter would use for class.
"Tell me why you are steeling and I will help you be a good person.  You think this is a joke but it is not," another part of the letter read.
Relatives said the burglar struck in the 10 minutes the pregnant mother was out of the house, dropping off her daughter at school, south of West Palm Beach. Details about the suspect were unclear.
https://www.foxnews.com/us/florida-girl-writes-letter-to-burglar-who-targeted-her-house