Florida family playing 'Call of Duty' have police called on them by concerned neighbors
A virtual battle turned into some real-life drama for a Florida family last week when neighbors contacted police after thinking a gun battle was taking place in their home.
The city of Deland said in a release that officers had to respond to a home on Nov. 15 after neighbors called to report a possible disturbance when they heard a man and woman yelling things including "that is my gun, give it to me" and "please don't kill me."
"Hi I'm calling because I hear my neighbors fighting down the street from me and I'm a little concerned with what they're saying," a person who called 911 could be heard saying. "She heard them screaming something like a woman saying please don't kill me."
When officers arrived at the home, however, they found out the couple was instead playing "Call of Duty" in their home.
"Thankfully, it was not the situation police thought they were being called to," city officials stated.
MAN ARRESTED IN 'CALL OF DUTY' 'SWATTING' HOAX THAT LED TO FATAL POLICE SHOOTING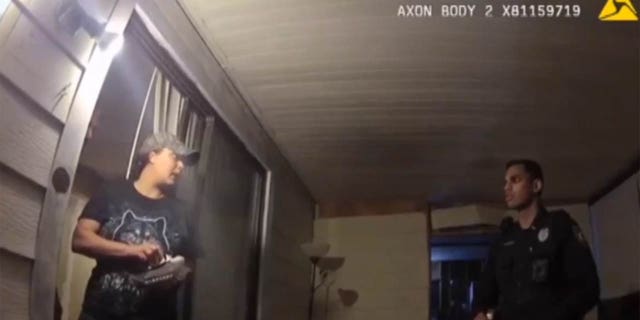 The woman inside the home, Jamie McKee, told FOX35 it was the first time she was playing with her husband at their home with the windows open. The game got heated at one point between her, her husband, and their daughter.
SUSPECT AT LARGE AFTER SEXUAL ASSAULT, FATAL SHOOTING AT ST. LOUIS CATHOLIC SUPPLY STORE: COPS
"I was in there laughing and don't kill me you know," she told FOX35.
Bodycam footage shows the officers going to the door, and McKee explaining to the officers it was just a video game.
"They took it pretty serious, but unfortunately, it wasn't that serious, so it's kinda funny but it's kinda not," she said.
The Deland resident said the whole incident taught her a very important lesson going forward.
"We will close the windows when we play," she said.