Family wants answers after photo of beaten Georgia inmate goes viral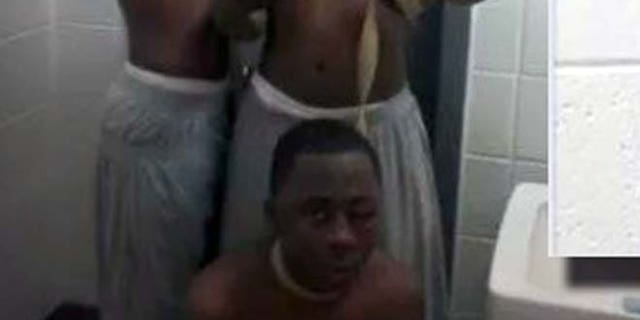 The family of a Georgia teen serving time for a parole violation are demanding answers Thursday about his safety after a photograph emerged of the teen beaten and bruised on Facebook.
Cortez Berry, 18, was attacked March 27 inside the Burruss Correctional Training Center in the town of Forsyth, which is southeast of Atlanta, The Atlanta Journal Constitution reported. The paper, citing a family member, reported that he was attacked after he turned down an offer to join a gang called, Gangster Disciples.
The prison is investigating. The Augusta Chronicle reported that Berry's cellmates placed a threatening call to his girlfriend demanding $300, according to the girl's mother.
Berry was photographed after the attack with a swollen face, crouched and wearing a makeshift leash. Two unidentified men appear standing over him, one holding the leash.
"I was like, 'Oh my God. What happened?'" his mother, Demetria Harris, told WNEM.com. "How did it happen?"
Jail officials find themselves having to answer two questions: How was this image able to be uploaded to Facebook and what procedures are in place to assure inmate safety?
The report points out that since 2010, 33 prisoners have been killed inside Georgia prisons.
Gwendolyn Hogan, a spokeswoman from the Georgia Department of Corrections, said officials are investigating the situation leading up to the attack. She confirmed to the paper that the person seen in the photo is Berry.
Shavondria Wright, Berry's aunt, told the paper that the prison has been tight-lipped about the incident and she was unsure if her nephew had been treated for the injuries.
"He isn't going to admit it, but deep down in his mind, he has to be fearful that something else can happen," she told The AJC. "And for me, I can't sleep at night because I don't know if my nephew is safe."
Berry's mother told The Augusta Chronicle that he said he will be transferred to another prison.