Engineer accused of trying to smuggle military jet engine documents, blueprints to Iran
By ,
Published December 01, 2015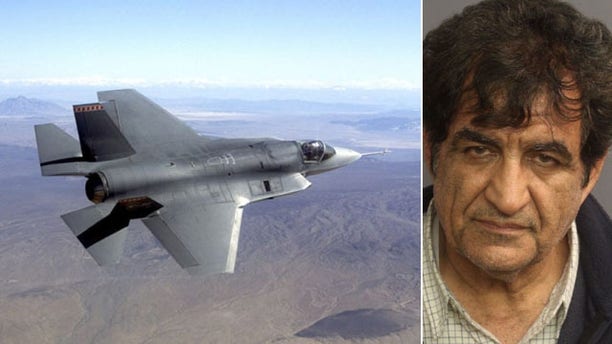 A former engineer for a U.S. defense contractor has been arrested and accused of trying to ship thousands of pages of documents, blueprints, technical manuals, and diagrams of military aircraft engines to Iran.
The U.S. Attorney's office for Connecticut said Mozaffar Khazaee, 59, was arrested at Newark Liberty International Airport Thursday after arriving from Indianapolis and before attempting to board a flight to Frankfurt, Germany en route to Tehran. He is charged with transporting, transmitting and transferring in interstate or foreign commerce goods obtained by theft, conversion or fraud, and faces as long as 10 years in prison and a $250,000 fine if convicted.
The Hartford Court reported Monday that Khazaee is a former engineer at East Hartford, Conn.-based Pratt & Whitney, where he worked on a team that conducted strength and durability evaluations for all the company's engine components, including the F119 engine for the military's F-22 Raptor engine. The paper reported that Khazaee was laid off in August along with approximately 400 other employees and moved to Indianapolis later in the year.
Federal authorities were put on Khazaee's trail when a shipment of boxes labeled "household goods" arrived in Long Beach, Calif. from Khazaee's home in Manchester, Conn. Court documents say that the label was addressed to Khazaee's brother-in-law, Mohammad Payendah, in Hamadan, Iran.
When customs agents inspected the shipment, they found documents related to military aircraft engines, including the F-35 Lightning II built by Lockheed Martin, as well as cookware, dishes, an English-Persian dictionary, medicine bottles, college documents, printed emails, an expired Iranian passport and credit card bills.
A federal affidavit claims that Khazaee became a naturalized U.S. citizen since 1991 and has traveled to Iran five times in the last seven years. The affidavit also says that Khazaee holds both U.S. and Iranian passports.
A Pratt & Whitney spokesperson issued a statement saying that the company "has been fully cooperating with the government on this matter and will continue to do so." Khazaee is currently awaiting extradition to Connecticut to face further proceedings.
Click for more from the Hartford Courant 
https://www.foxnews.com/us/engineer-accused-of-trying-to-smuggle-military-jet-engine-documents-blueprints-to-iran