Desperate searches underway for two students who vanished near major college campuses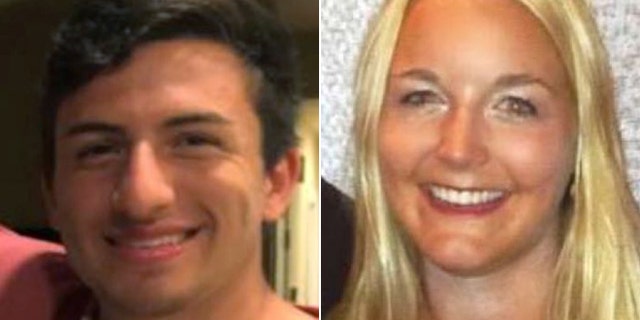 Desperate searches are underway Monday near two major college campuses for students who disappeared in recent days – one a sorority member from University of Minnesota Twin Cities, who vanished after leaving a bar; the other a member of the University of California Berkeley soccer team, who left a fraternity party to go on a walk.
The Minneapolis Police Department said Monday that Jennifer Houle, 22, was last seen entering the Mississippi River after leaving the Blarney Bar early Friday, a popular student hangout near the University of Minnesota Twin Cities campus in Minneapolis.
"Last night, video evidence was located that indicates Ms. Houle entered the river from the 10th Avenue Bridge on Friday morning. No suspects are being sought," the department said in a statement to FoxNews.com.
"We extend our deepest condolences to the Houle family and all of Jennifer's many friends," the statement added.
On Sunday, police said they found Houle's purse three blocks from the bar.
Houle is a senior at the school and a member of the Pi Beta Phi Sorority.
In California, 19-year-old freshman Eloi Vasquez left a party at the University of Southern California chapter of Tau Kappa Epsilon at around 1:30 a.m. Saturday after telling his friends he wanted to take a walk, LAPD Officer Norma Eisenman said in a statement.
He never returned. A $50,000 reward is being offered for information on his location, KABC reports.
Police said that Vasquez didn't have any money or identification on him when he left the party. His mother, Wendy Margolin, told KNBC-TV that Vasquez called a friend in Northern California shortly after 2 a.m., telling her he was lost and in trouble. She said no one has been able to reach him on his cellphone.
"He pretty much said, 'I need you to come over here, I need help.' I asked him 'Where are you?' and he told me that he was in LA and that he didn't know where he was at and that he was lost," the friend, Aurora Cardenas, told NBC Los Angeles. "The second time he called it just clicked. I didn't know if his phone died, or if he hung up."
Vasquez's friends tried to persuade him to come back to the party, but he said over the phone that he "was going to the beach," NBC Los Angeles reports.
"Everyone knows how responsible he is, how dedicated to school he is and he hasn't contacted anyone since," Margolin said. "Something is going on with him."
Margolin added that "all his friends are out scouring for him... looking around for him.
"They've gone to lifeguard towers in the Santa Monica and Venice area, hoping someone has seen him," she said.
FoxNews.com's Greg Norman and The Associated Press contributed to this report.