Dead sea lions, some with gunshot wounds, washing up along shore near Seattle
By Louis Casiano
Published November 25, 2018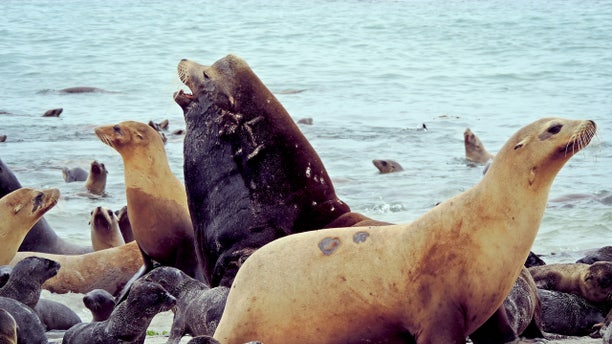 Since September, at least 13 dead California sea lions have been reported dead along the shores of Puget Sound near Seattle, including six with gunshot wounds and another discovered Tuesday with its head cut off, according to conservation groups.
The Seal Sitters Marine Mammal Stranding Network, a group that responds to dead or stranded sea lions, confirmed seven of those dead sea lions are suspected to have died from "acute trauma" caused by humans, the Seattle Times reported.
Earlier this month, the carcass of a bullet-riddled sea lion washed up along a West Seattle shore and another was found the following day.
"Honestly, I just could not go to look after what I had seen the day before," said Randie Stone, who discovered a dead sea lion Nov. 14. "To me, this is such a heinous act."
NOAA Fisheries, the federal agency tasked with managing marine resources, has confirmed the deaths of five sea lions, including four that suffered gunshot wounds, a spokesman said.
The federal government estimates that between 1998 and 2017, about 700 California sea lions have been found with gunshot or stab wounds.
A local marine conservation group announced a $5,500 reward to catch those responsible for the sea lion shootings, Seattle's KING-TV reported.
Robin Lindsey, of the Seal Sitters, said reports of shootings usually increase along with fish runs.
During the fall and spring, sea lions shootings have been reported in Puget Sound when males migrate from the Channel Islands in Southern California to forage for food, NOAA Fisheries spokesperson Kristin Wilkinson said.
"According to those who live and work along the Elliott Bay and Duwamish waterfront, shots are being heard even more frequently this year," Lindsey wrote in a Nov. 21 posting on Seal Sitters' Blubberblog.
The sea lions can found primarily along the West Coast and are protected under the Marine Mammal Protection Act.
Previously hunted for pet food and pelts, California sea lions were once on the brink of extinction, but their population has rebounded from less than 90,000 in 1975 to more than 250,000 in 2014.
https://www.foxnews.com/us/dead-sea-lions-washing-up-ashore-near-seattle-with-gunshot-wounds