Clown car crash: Performers come to aid of fellow jester after accident
By Karl de Vries, ,
Published December 01, 2015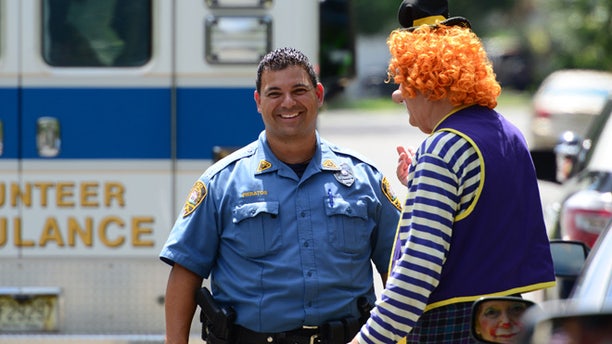 Instead of first-responders, this was a case of send in the clowns.
A minor car accident involving a utility pole turned into a real high-wire act on Monday after a group of New Jersey clowns came to the rescue of a shaken-up fellow jester.
The one-car crash occurred in Westwood when Suzanne Serio, 68, having just entertained kids as part of a clown group at an elementary school, lost control of her car, police said.
As soon as they saw the crash, Serio's colleagues -- still dressed in costume and makeup across the street at the school -- ran over to help. The scene, as one might imagine, "was something you don't expect," one of the responding clowns, Jack "Poppi T Clown" Erbstein -- the "T" stands for "the" -- told FoxNews.com.
Serio told FoxNews.com that she became distracted after dropping the GPS device in her car, which was totaled in the accident. Although she was briefly hospitalized with minor contusions, she was quickly released and was in good spirits when discussing the accident on Tuesday night.
"It ended up being quite amusing for everyone," she said. "It ended up giving people a smile."
In fact, when she arrived at a local hospital still clad in her clown gear, the attending nurses began giggling, and a doctor couldn't help but demonstrate his juggling skills -- using three vials of insulin, Serio said.
She was not charged in the accident, Westwood police said.
The clowns are members of New Jersey-based Call Us Clowns, a not-for-profit organization that performs clown shows at schools and hospitals.
Click here to read more from NorthJersey.com.
https://www.foxnews.com/us/clown-car-crash-performers-come-to-aid-of-fellow-jester-after-accident