Cat rescued from top of light pole after about 12 hours of calling for help, woman says
By Ryan Gaydos
Published October 01, 2018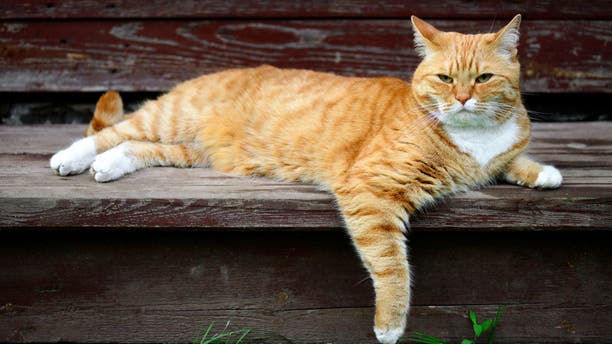 A Washington state woman whose cat was stuck on top of a light pole Friday said she was put through the ringer trying to get help for her animal.
Abi Harmon's orange and white cat, named Bernard, somehow got stuck on top of a 40-foot utility pole, according to the Seattle Times. Harmon immediately began trying to get help for her cat -- but was stymied wherever she went.
Harmon initially contacted the Seattle Police Department, but dispatchers told her there was nothing they could do about it, the Seattle Times reported. She then walked over to the fire department, but firefighters told her the live wires were too dangerous for crews to attempt a rescue.
When Harmon contacted Seattle City Light, they told her they might send someone to take a look at the issue. In the meantime, Harmon said she contacted arborists and some animal rescue crews but no one would come and help get her stuck cat.
Someone from Seattle City Light eventually showed up -- but they didn't have the equipment to get the cat down and couldn't shut the power down, according to the Seattle Times. Finally, Harmon was able to get a fire crew and police officers to free the feline.
"At this point, every neighbor was out," Harmon told the Seattle Times. "Forty feet in the air, cat crying [all day] — if you were in the vicinity, you could tell what was happening."
While waiting, the neighbors decided to take things into their own hands. They rigged up a ladder with a sleeping bag hoping the cat would jump onto the bag. However, responding rescue crews halted that operation.
"There was a lot of back and forth — no one was agreeing to do anything," she said. "It was sort of like everybody was pointing fingers at everybody else."
Harmon added: "Everyone was sort of passing the buck."
Scott Thomsen, a spokesman for Seattle City Light, told the Seattle Times that the power company was reluctant at first because rescuing the cat wasn't "their job."
"We're not in the cat-retrieval business," he said. "When you start doing this, you start getting calls from every cat owner."
As of Saturday, the cat was back home, safe and sound.
https://www.foxnews.com/us/cat-rescued-from-top-of-light-pole-after-about-12-hours-of-calling-for-help-woman-says