California's Camp Fire leaves 56 dead, sheriff says
The death toll in California's Camp Fire rose to 56 on Wednesday night after authorities said they discovered an additional eight sets of human remains in the state's deadliest wildfire.
Butte County Sheriff Kory Honea said at a news conference that of the 56 remains found, officials have "tentatively identified" 46 of them, but are awaiting DNA confirmation.
CALIFORNIA FIREFIGHTERS RESCUE BURNED CAT AS CAMP FIRE CONTINUES TO BURN
The fires in Northern California are still considered an "emergency situation," the sheriff said. Nearly 5,500 personnel are working to battle the blaze.
Cal Fire officials said that the fire has now burned 138,000 acres and is 35 percent contained. It's destroyed nearly 9,000 homes and displaced 52,000 people.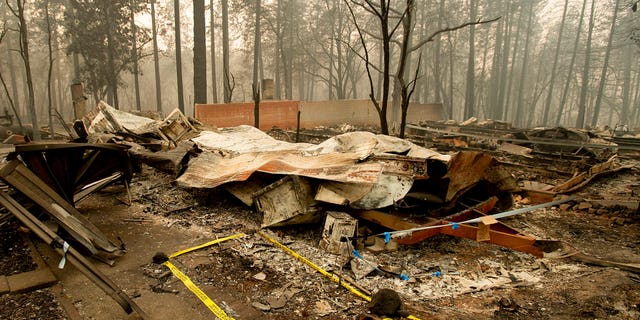 The sheriff's office has 130 people listed as "unaccounted for." But Honea said 200 others whose whereabouts were unknown have since been located by investigators.
CALIFORNIA MAN SAVES 'SHIVERING' MULE FROM DROWNING IN POOL AFTER DEVASTATING CAMP FIRE
On Wednesday, an additional 287 searchers, including National Guard troops, were brought in to aid in the search to find bodies that may have perished in the inferno, which has been burning since Nov. 8. The total number of searchers is now at 461, plus 22 cadaver dogs.
California Gov. Jerry Brown said Wednesday that he's spoken with President Trump about the devastating fires. Trump over the weekend threatened on Twitter to withhold fire aid to the state, but he later pledged federal assistance.
"This is so devastating that I don't really have the words to describe it," Brown said.
Interior Secretary Ryan Zinke joined Brown on a visit to Paradise — a town of 27,000 which has been incinerated by the inferno — and said it was the worst fire devastation he had ever seen.
"Now is not the time to point fingers. There are lots of reasons these catastrophic fires are happening," Zinke said, citing warmer temperatures, dead trees and poor forest management.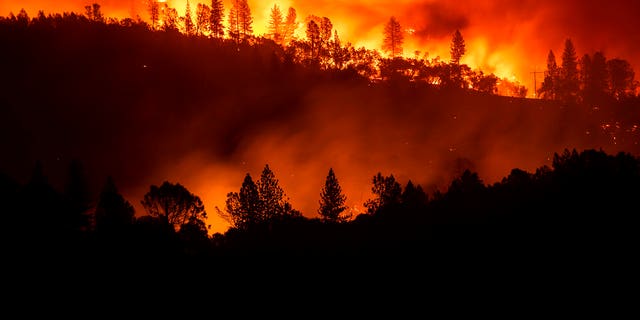 The infrastructure in Paradise "is basically a total rebuild at this point," Federal Emergency Management Agency (FEMA) administrator Brock Long said. "You're not going to be able to rebuild Paradise the way it was."
AMERICAN FLAG DISCOVERED IN CAMP FIRE RUINS IN CALIFORNIA
Before the Paradise tragedy, the deadliest single fire on record in California was a 1933 blaze in Griffith Park in Los Angeles that killed 29.
The cause of the fires remain under investigation, but they broke out around the time and place that two utilities reported equipment trouble.
The Associated Press contributed to this report.