California oil spill: Harbor patrol searched, was unable to find fuel on the water
Tens of thousands of gallons of oil were spilled from the Orange County pipeline
Southern California harbor patrol boats reportedly received multiple communications of a possible fuel spill off the southern California coast on a marine radio emergency channel about an hour before the U.S. Coast Guard had heard anything about oil on the water and approximately 15 hours before a large slick was confirmed.
According to The Associated Press, Carrie Braun, a spokeswoman for the Orange County Sheriff's Department, said Thursday that harbor patrol boats off the coast of Huntington Beach had picked up radio chatter regarding an oily sheen and smell on the water at about 5:30 p.m. PT on Oct. 1.
CALIFORNIA OIL SPILL: INVESTIGATORS BELIEVE 1,200-FOOT CARGO SHIP DRAGGED PIPELINE
Braun said that while at least one of the boats – who was there for the Huntington Beach air show – checked on the spill reports nothing was found on the water.
The Coast Guard did not hear about a possible spill until around an hour later, U.S. Coast Guard Lt. Commander Jeannie Shaye told Fox News on Friday.
"So … the Coast Guard got the first report on Channel 16 [at] about 6:30 p.m. on that Friday night, October 1st. And that came from a container vessel that was anchored. And, at that point, it's standard protocol for if information comes in regarding something like oil for them to contact us via landline," she explained. "So, we asked them to contact via landline, got a little bit of additional information and then asked them to make [a National Response Center] report: and that's the way for an official report to be made in regards to oil. So, that additional information can be passed along."
The National Response Center (NRC) is staffed by the Coast Guard and notifies other agencies of emergencies for quick response.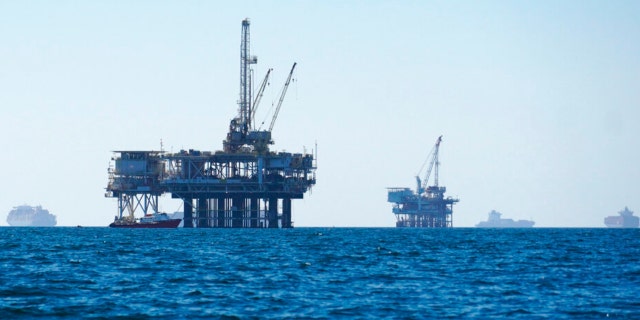 Shaye said that at about 7 p.m., the Coast Guard began to notify some of the local agencies.
"So, we contacted [California] Fish and Wildlife and Orange County Harbor Patrol starting at about 7 o'clock – that's when we started making notifications for possible assistance. And, as I'm sure you're aware, it was already [dark] at that point, so all three of those agencies collectively decided that it was not safe to go out due to the impending darkness," she added, noting that after the air show, all the agencies made the assessment to do a first light search the next morning.
The oil spill was not confirmed by authorities until around 9 a.m. on Oct. 2.
Notably, it was initially believed that the first word of a possible spill came to the Coast Guard at 6:13 p.m. PT on Friday from a foreign ship anchored off of the beach.
FBI JOINS INVESTIGATION INTO ORANGE COUNTY OIL SPILL AS LA-AREA CRISES MOUNT
In the days after the spill, Coast Guard officials gave at-times conflicting accounts of the timeline for the initial response.
The Associated Press reported earlier in the week that while Rear Adm. Brian Penoyer had said that the Coast Guard put out a radio broadcast to vessels and oil platforms in the area searching for reports confirming a possible spill, Capt. Rebecca Ore said no broadcasts were made.
Shaye told Fox News that Ore was correct and that there had been a "miscommunication."
"So, there was no broadcast made out on Channel 16 about that. It was individual calls and that's standard protocol," she said.
Shaye told The Associated Press that the CoastGuard had no prior knowledge that the harbor patrol actually searched for the spill that evening.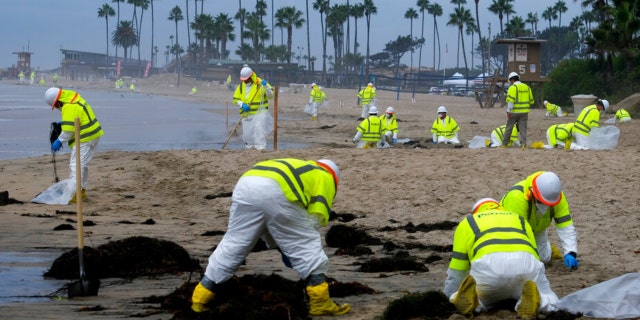 As darkness fell, Braun said the harbor patrol had completed its check and it wasn't until 8:22 p.m. that the commercial vessel's report was called into the NRC by Colonial Compliance Systems Inc., which works with foreign ships in U.S. waters to report spills, according to reports compiled by the California Office of Emergency Services.
In the morning, the Coast Guard contacted harbor patrol again and its hazardous materials investigators took a county fireboat, eventually locating the spill, according to an Orange County Sheriff's Department memo obtained by The Associated Press through a California Public Records Act request.
The Coast Guard says that approximately 25,000 gallons of oil spilled from Houston-based Amplify Energy's pipeline off of Orange County, forcing beach closures and killing dozens of birds.
Federal investigators are still looking into whether the 1,200-foot Panama-registered MSC DANIT container ship was dragging anchor during a Jan. 25 storm and snagged the pipeline.
However, it is not known why the leak happened eight months later and authorities are still investigating whether other anchors had hit and weakened the pipeline or if a pre-existing condition was to blame.
CLICK HERE TO GET THE FOX NEWS APP
Amplify Energy's maintenance of the pipeline is also under scrutiny, in addition to its response time.
Tar balls have washed up on beaches up and down the coastline, although it was unclear whether the tar balls were all directly linked to the spill.
While the damage appears not as great as initially feared, environmental advocates point out that the long-term impact remains unknown and a group of organizations on Wednesday demanded the Biden administration suspend and cancel oil and gas leases in federal waters off California's coast.
The Associated Press contributed to this report.