California bus crash injured 40, moment of impact seen in dashcam video
Newly released dashcam video shows the terrifying moment Sunday a bus lost control on a freeway in Southern California, careening out of control, smashing into a center divider and injuring dozens of people.
The crash took place on the 405 Freeway in the San Fernando Valley shortly after 1 p.m., when the bus, traveling north, changed lanes and ended up in front of a white truck towing a trailer.
In the video, the white truck is seen trying to get back in front of the bus. A man who spoke with the bus driver, 60-year-old Ophelia Rodriguez, told FOX11 that Rodriguez said the driver of the truck slammed on his brakes and she tried to avoid crashing into the trailer, in the process losing control and slamming into a concrete divider.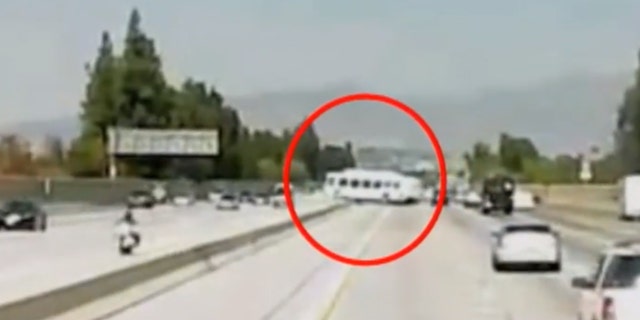 "There was a theory circulating that this might be a road rage incident, we're not going in that direction at this point, it's too early," California Highway Patrol Officer Leland Tang said. "We're in the process of doing as we speak is we're going through all the witnesses, interviewing witnesses, we also have a scheduled vehicle forensic analysis on the bus to make sure there were no steering issues, brake issues or any mechanical issues."
CALIFORNIA BUS CRASH LEAVES APPROXIMATELY 40 PEOPLE HURT
A total of 40 people were injured in the crash. Of the 25 people taken to the hospital -- five of whom were in serious condition -- the bus driver is the only one who remains hospitalized, according to FOX11.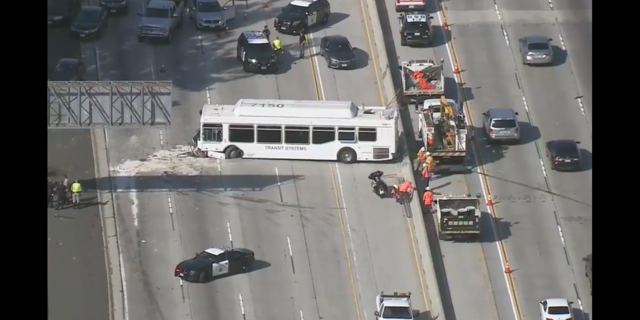 Authorities have so far been unable to interview the driver because of her injuries. The crash shut down the freeway's southbound lanes for hours, backing up traffic for miles.
"She took the brunt of the impact when it came to that wall," Tang told FOX11, adding the result could have been far worse. "It happened on a Sunday, so if we were to apply the same scenario to a Monday, same time Monday, we definitely would have had some fatalities."
Fox News' Nicole Darrah contributed to this report.