California boat company cancels upcoming diving trips as 33 of 34 bodies pulled from water
By Nicole Darrah
Published September 04, 2019
The bodies of 33 of the 34 people presumed dead after a dive vessel caught fire off the coast of California on Monday have been recovered, officials said Wednesday.
Dozens aboard the Conception – a ship with Santa Barbara-based company Truth Aquatics – were unable to escape when a fire broke out around 3 a.m. on the boat, which was anchored roughly 90 miles northwest of Los Angeles just off Santa Cruz Island.
CALIFORNIA DIVE COMPANY OWNER ON DEADLY BOAT FIRE: THIS HAD 'NEVER, EVER HAPPENED BEFORE'
Five crew members who were on the upper decks were quickly rescued after they jumped from the vessel, swam to an inflatable boat and steered it to a ship anchored nearby. The U.S. Coast Guard said the Conception was entirely engulfed in flames by the time they arrived on the scene.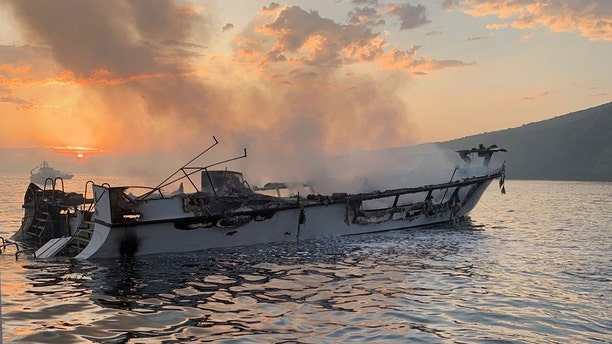 Truth Aquatics has canceled upcoming diving trips out of respect for the people who were killed in the flames, according to KCBS-TV. Employees with the company, which was founded in 1974, announced the cancelations on Wednesday.
FAMILY OF 5 CELEBRATING BIRTHDAY AMONG 34 FEARED DEAD IN SOUTHERN CALIFORNIA BOAT FIRE
In addition to the Conception, the company had two other vessels, Truth and Vision, in its fleet. Dave Reid, who runs an underwater camera manufacturing business with his wife, said he has traveled on all three boats and said he considered all three among the best and safest.
He said the company's crew has always been meticulous in going over safety instructions at the beginning of every trip she's been on. "They tell you where the life jackets are, how to put them on...the exits, where the fire extinguishers are, on every single trip," Terry Schuller told The Associated Press.
A total of 39 people were on the ship for a three-day excursion when it caught fire — all 34 of those who didn't make it out are presumed dead. Rescuers stopped their search efforts on Tuesday morning.
FIRE BLOCKS ESCAPE FOR 34 BOAT OFF SOUTHERN CALIFORNIA COAST, INVESTIGATORS SAY
It's not yet known how the fire started, but it spread rapidly, according to Santa Barbara County Sheriff Bill Brown. He said flames blocked both exits — a narrow stairway and an escape hatch — on the lower deck, where passengers and one crew member were sleeping in tight quarters.
The National Transportation Safety Board (NTSB) is investigating the disaster. According to Marjorie Murtagh Cooke, former director of the NTSB's Office of Marine Safety, the exit routes of the vessel might be a key part of that investigation.
CLICK HERE TO GET THE FOX NEWS APP
She told the Los Angeles Times vessels are required to have two exits in sleeping quarters — but Dr. Aaron Roland, who's dived with Truth Aquatics, told the news outlet he didn't remember a second exit on the boat and doesn't believe crew members pointed it out to passengers.
Sailor James, a man who took a diving trip aboard the Conception in January 2018, posted a video of his trip to show the layout of the tight living quarters. Footage shows small bunks stacked close together. James said he remembers "being shocked that there was no accessible hatch to the deck, that I knew about anyway," according to The Modesto Bee.
The Associated Press contributed to this report.
https://www.foxnews.com/us/california-boat-fire-canceled-diving-trips