'Boy's Best Friend' Risks Life to Save Owner From Swarm of Bees
By ,
Published December 01, 2015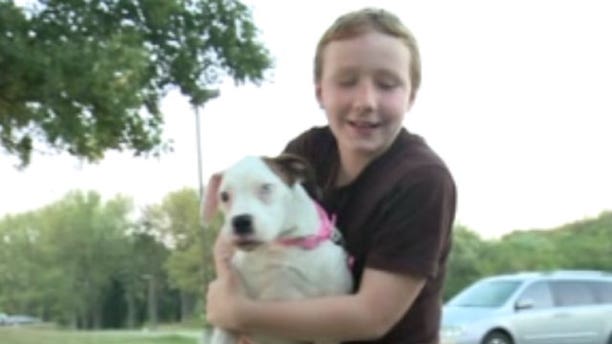 Pinky the puppy is being called a hero after she literally jumped to the rescue and saved her best friend, 9-year-old Richie Bragg, after he was attacked by a swarm of bees on Sunday.
"I had an allergic reaction, because I didn't know I was allergic to bees," Richie said.
And little could Pinky have known that she, too, was allergic.
The 18-week-old boxer, who was given to Richie as a gift from his grandmother, jumped on the boy and distracted them as they began to attack.
"They just got onto Pinky and a whole bunch of bees followed her," he said.
Richie ran into his house, but his mom had to close the door on his puppy, who was still surrounded by bees. "She was yelping when she got to the door," said Richie, who suffered only a few stings and whose dad rushed him to the hospital. He has a blood clotting condition and could have been in serious trouble if Pinky hadn't distracted the bees, his parents told Fox 8 News.
Richie's mom rushed Pinky to the Stow Kent Animal Hospital, where veterinarian Dr. Jaime Marietti stayed with the pup for 4-5 hours and removed more than 40 stings. She described Pinky as "nonresponsive," saying "You couldn't see either of her eyes, she was swollen completely. Her ears were actually swollen and sticking straight out because they were so swollen."
Pinky was having trouble breathing, as well. She did not move as the doctor stuck an IV in her.
"Boxers, especially, tend to be a little bit more allergic to bees; however, she had an anaphylactic reaction," Marietti said. "We were trying to get her through this. She never even looked at us, she never lifted her head up, she didn't pay attention to anything."
Marietti was able to stabilized Pinky, and once her breathing became regulated and her swelling came down, there was no stopping her.
The Bragg Family has left for their Labor Day vacation, and guess who's along for the ride.
"Pinky, you really saved my life!" Richie told his dog.
Click here for more on this story from Fox8News.
Foxnews.com's Meghan Baker and Fox 8 News contributed to this report.
https://www.foxnews.com/us/boys-best-friend-risks-life-to-save-owner-from-swarm-of-bees