Beretta Pushes Back on Army Rejection of M9A3 Pistol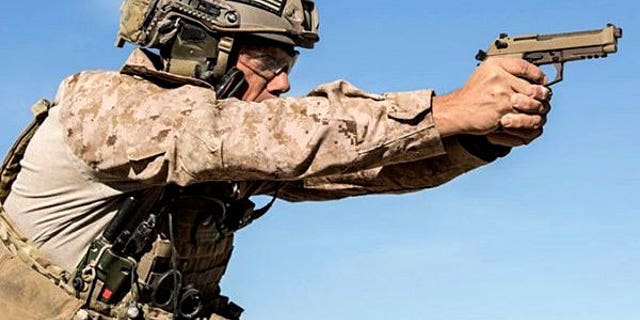 The U.S. Army has now formally rejected Beretta USA's proposal for a modernized version of the M9 9mm pistol.
But Beretta is not giving up just yet.
Army officials sent Beretta a Jan. 29 letter stating that the M9A3 Engineering Change Proposal would not work as an alternative to the service's Modular Handgun System program.
On Jan. 30, the maker of the M9 service pistol sent a letter to Army officials, "requesting reconsideration," said Gabriele De Plano, vice president of military marketing and sales for Beretta USA.
"At this point, we are awaiting their response," he said.
This is the latest development in this story that began with Beretta submitting the M9A3 in early December as an engineering change proposal to the current M9 contract. The improved M9 features new sights, a rail for mounting lights and accessories, better ergonomics and improved reliability, according to Beretta USA officials.
Military.com ran a Jan. 9 article reporting that the service's Configuration Control Board decided in December to deny Beretta's M9A3 ECP proposal as an alternative to MHS.
Then it appeared that Army officials might reconsider when it unexpectedly delayed the start of its MHS competition Jan. 12, postponing the release of the formal Request for Proposals that was scheduled for January.
Beretta would not comment on the Army's Jan. 29 letter, but a source familiar with the document said Army officials rejected the M9A3 because it goes beyond what a traditional ECP is supposed to do. As a result, Army officials said they could not alter the original M9 contract and the M9A3 would have to be submitted as a brand new pistol, the source said.
The U.S. military adopted the M9 in 1985. The effort to replace the 9mm pistol with a more powerful handgun could result in the Defense Department buying 500,000 new pistols during a period of significant defense-spending reductions.
MHS is set to cost at least $350 million and potentially millions more if it results in the selection of a more powerful pistol caliber, sources said.
The Army began working with the small arms industry on MHS in early 2013, but the joint effort has been in the works for more than five years.
Current plans call for the Army to purchase more than 280,000 handguns from a single vendor, with delivery of the first new handgun systems scheduled for 2017, according to Program Executive Office Soldier officials. The Army also plans to buy approximately 7,000 sub-compact versions of the handgun.
The other military services participating in the MHS program may order an additional 212,000 systems above the Army quantity.
-- Matthew Cox can be reached at Matthew.Cox@military.com