Autistic woman was allegedly caged and forced to eat her dead mother's ashes; 5 face federal charges
By Kathleen Joyce, ,
Published July 29, 2018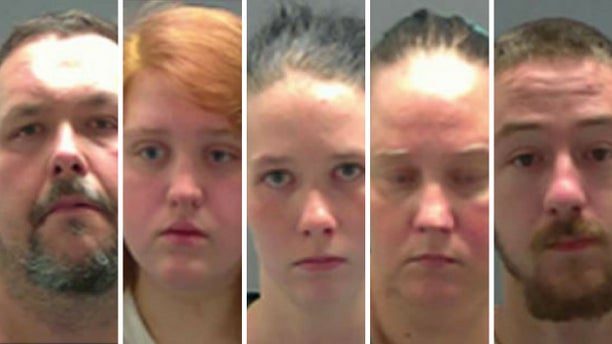 Five Louisiana residents face federal charges for allegedly caging and abusing an autistic woman, two years after they were arrested on state charges in the case.
A federal grand jury indictment detailed the alleged litany of horrors against the 22-year-old victim, who was identified only by her initials. The indictment was made public on Thursday evening.
The woman was allegedly kept in a cage outside the Tangipahoa Parish home where the five suspects lived. Prosecutors said the victim was coerced into manual labor such as bathroom and kitchen cleaning and subjected to psychological and physical abuses: threats of harm or death if she didn't obey; beatings; being burned with a cigarette lighter; and having human waste from a septic tank dumped on her. The victim was fed only after she finished her cleaning and work.
MASSIVE NORTHERN CALIFORNIA FIRE DOUBLES IN SIZE OVERNIGHT; STATE OF EMERGENCY DECLARED
One of the suspects is charged with shooting her with a BB gun. At one point, according to charging documents, she vomited after being forced to eat the cremated remains of her late mother as the defendants laughed. She was allegedly forced to live in a cage made of chicken wire and covered with a tarp. A bucket was put in the cage where the woman was told to use as a toilet.
She was allegedly not allowed a phone or a computer and was forced to take painkillers and methamphetamine.
Two of the suspects, husband and wife Terry Knope II, 45, and Raylaine Knope, 42, face a sex trafficking charge. Prosecutors said they planned to force the victim into prostitution. They also face labor and housing law violations along with Terry Knope's daughter, Taylor Knope, 20, and Raylaine Knope's son, Jody Lambert, 23.
Terry Knope also faces a hate crime count, in which prosecutors say the injuries he caused the victim were motivated by her disability. He also is charged with theft of government funds — more than $8,700 in Social Security benefits meant for the victim.
All four face possible life sentences.
Another of Raylaine Knope's daughters, Bridget Lambert, was charged separately in a bill of information with forced labor conspiracy. Prosecutors say the charge carries a maximum five-year sentence.
MAN ACCUSED IN NURSE'S GRISLY MURDER MAKES DISTURBING CONFESSION: POLICE
All five are in custody, according to court documents. Defense attorneys declined to comment or didn't immediately respond Friday.
Prosecutors said the victim was a relative of Raylaine Knope. The victim was found by Tangipahoa Parish Sheriff's Office deputies following a call of a complaint in 2016. The indictment said the victim and her mother had lived with the defendants until the mother's death in 2015.
When the arrests were made, the victim, identified in documents only by her initials, was placed in the custody of the state Department of Health and Hospitals protective services.
"The degree of trauma that someone like this goes through is probably indescribable," Tangipahoa Sheriff Daniel Edwards said.
The Associated Press contributed to this report. 
https://www.foxnews.com/us/autistic-woman-was-allegedly-caged-and-forced-to-eat-her-dead-mothers-ashes-5-face-federal-charges