At Arlington National Cemetery, America's heroes are never buried alone
By ,
Published November 11, 2016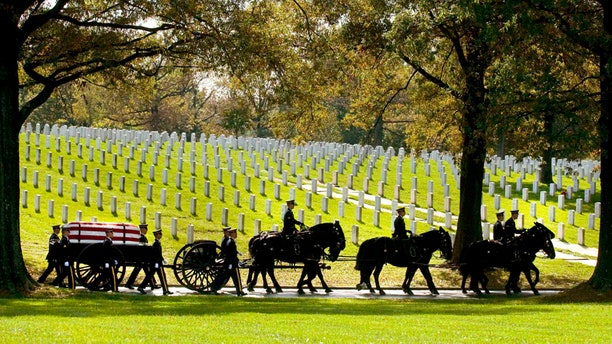 Whether it's in the rain, snow or sweltering heat, no matter what branch of America's armed services is being honored at Arlington National Cemetery, there is one thing that remains constant – they will never be buried alone.
The fallen servicemen and women's funerals are attended daily by the Arlington Ladies, a group of volunteers who cover all Army, Air Force, Navy and Coast Guard burials at the historic cemetery in Virginia.
"Some veterans or their families learn about the Arlington Ladies and think that they need to schedule us, and that is never the case," Air Force Arlington Lady Sandra Griffin said in an AARP video released this week in honor of Veterans Day. "Regardless of the situation whether there is family or not, we'll always be there," she said.
The group started in 1948, when then-Air Force Chief of Staff Gen. Hoyt Vandenberg and his wife, Gladys, noticed that there were burials that were being attended at Arlington only by the military chaplain and buglers.
The two agreed that someone from the Air Force family should always be there to pay their respects, and they started recruiting friends at the Officers' Wives Club, according to AARP Bulletin.
The group expanded in 1973 to include the Army, the Navy in 1985 and the Coast Guard in 2006. Today, its ranks are around 200 strong. For Marines, a representative of that branch's commandant's office attends every Marine funeral at Arlington.
"The number one thing that an Arlington lady must have is composure," Griffin said. "We always have to remember that this is a ceremony that is so honored and hallowed. And there is nothing like it in the world."
VETERANS GIFT DISABLED TEEN FEATURED IN FLAG PHOTO WITH STANDING WHEELCHAIR
On any given weekday at Arlington, as many as 30 war dead and veterans are laid to rest, according to AARP Bulletin.
In addition to the funeral rituals of a honor guard, rifle volley, the playing of taps and the presentation of a folded American flag, the Arlington Ladies speak to the families of the fallen and hand over envelopes to their next of kin.
Inside the envelopes? A condolence card from the armed service's chief of staff and a handwritten note from the Arlington Lady, usually written after researching the service member's life online.
VETERANS BATTLE THE INVISIBLE SCARS OF WAR WITH ART

"A military funeral is very precise," Margaret Mensch, chairman of the Army Arlington Ladies, told AARP Bulletin. "We give the personal touch."
It is not clear how many funerals the group has attended overall, but since 2000, the Army version of the group has witnessed nearly 30,000 burials.
Each Arlington Lady has some kind of special connection to their respective service, whether they are a current for former military member or the spouse of one.
In Griffin's case, she served in the Air Force for 23 years, while her husband is currently serving his 28th year and their daughter is in her 5th year.
For her, "representing the Air Force family" is a tradition she wants to help keep alive.
"We are the wives, the husbands, or active duty in my case and we know firsthand what it will be like because one day that may be us sitting there in that chair," she said.
https://www.foxnews.com/us/at-arlington-national-cemetery-americas-heroes-are-never-buried-alone