Animal House: Ski resort damage at $430G after University of Michigan party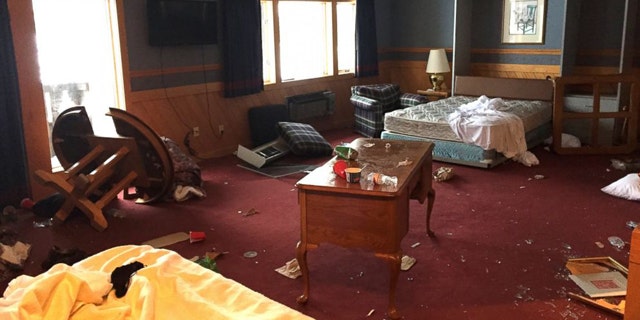 A Michigan resort says the price tag to repair damage from an out-of-control party involving University of Michigan fraternities and sororities has now reached $430,000 – and the students are unwilling to pay up.
About 120 students, including members of Sigma Alpha Mu and its sister sorority, Sigma Delta Tau, gathered at the Treetops ski resort in Gaylord on Jan. 17-18, according to the Detroit Free Press. Pictures taken after the wild party showed that students damaged 45 rooms, destroyed ceiling tiles and exit signs, broke furniture and urinated on carpeting.
"If you just look at our out-of-pocket expenses, things we've paid to contractors, third parties, it's around $230,000. It doesn't take into consideration management time or damage to the resort's reputation," Barry Owens, the resort's general manager, told the newspaper. "Our accountants and attorneys are saying that this could be up to an additional $200,000."
No students have been charged yet in the destruction, but the University of Michigan came down hard on Sigma Alpha Mu on Friday, by declaring that it won't be recognized as a campus organization for four years – the school's most severe sanction.
Dean of Students Laura Blake Jones said the behavior of the students was "reprehensible."
The university also restricted the activities of the Sigma Delta Tau sorority for two years, and punished two more fraternities and two more sororities.
Sigma Delta Tau was placed on the suspension because its members "stood by at Treetops Resort and allowed others to vandalize the facility," the sanctions said.
Treetops spokeswoman Susan Wilcox Olson said Saturday that Sigma Alpha Mu has paid $25,000 toward restitution, but also claimed that a fraternity representative told them that the organization is "unwilling to accept liability and pay restitution."
Owens added that "it also has become evident that the fraternity representatives have suggested that they are unwilling to pay for the damage that they caused the resort."
However, a statement posted on the fraternity's website says it will be "working with the management of the resort to pay for all damages and cleaning costs.
"We are embarrassed and ashamed of the behavior of a few of our chapter members at Treetops Resort over the weekend of January 17-18," Sigma Alpha Mu wrote. "This behavior is inconsistent with the values, policies, and practices of this organization."
Owens told the Detroit Free Press that the ski resort is repaired and now open for business, but the costs of the damage "will impact our operation and we're not big enough to shoulder that burden."
Besides the damage caused at the Treetops resorts, officials at Boyne Highlands condominiums near Harbor Springs say University of Michigan fraternity and sorority members caused about $30,000 in damage to its units during the same weekend.
In response, the school imposed less severe sanctions against Pi Kappa Alpha and Chi Psi fraternities and Alpha Phi and Delta Gamma sororities, the Detroit Free Press reported.