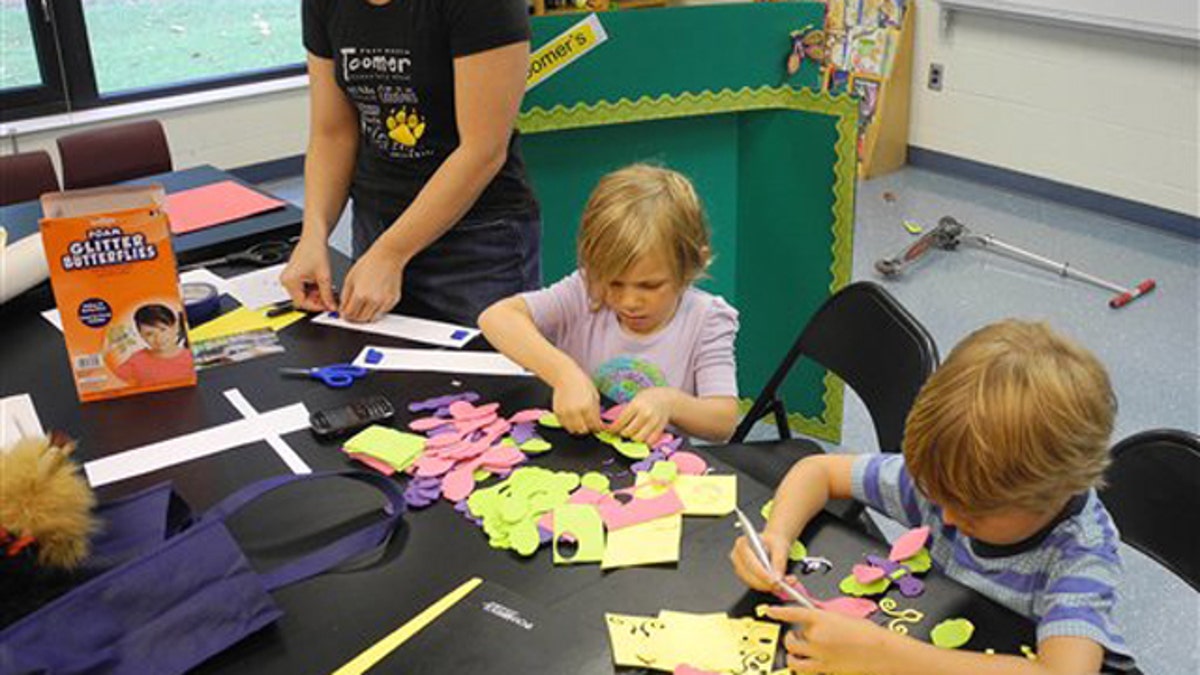 Students return to Atlanta's schools this week for what's likely to be a tough year amid a cheating scandal that has forced thousands of students to get remedial tutoring because they were promoted based on forged test scores and left the district with a shortfall of up to $10 million.
The new superintendent, Erroll Davis, has vowed to clean up the mess. More than 100 teachers were removed from classrooms less than a month before classes started, accused of spending nights huddled in back rooms changing the answers on students' tests in a scathing state investigation released in early July.
But teachers and parents hope students -- many of whom live in the city's poorest neighborhoods -- will be focused on one thing come Monday: learning.
"We have to just move forward. We can't give up on our public schools," parent Alice Jonsson said as she cut paper Thursday to create a bulletin board for faculty members at Toomer Elementary. Her son Jake starts first grade this week.
Jonsson and other parents spent last week helping teachers get ready for the school year by decorating classrooms and hallways. At Toomer, one of 44 schools in the report, investigators said teachers either prompted students to choose the correct answer or looked at test booklets in advance to be sure students were ready for the questions. At least one teacher arranged desks so that lower-performing students got easier questions, investigators said.
Principal Nicole Evans Jones, who took over in November 2009 after the alleged cheating occurred, said the educators named in the report have been replaced or left Toomer on their own. Her focus now is on making sure students and parents are confident in the school.
That won't be easy, though: Jonsson said she worries the cheating scandal is a "cancer that does damage for many years."
"Now my biggest concern is when the kids do well, they're going to be perceived as cheaters. That's heart-breaking," she said.
Thousands of students -- mostly in the city's poorest neighborhoods -- will need extra tutoring and after-school help this year because they were promoted based on inflated test scores.
Meanwhile, enrollment in the district is projected to be up by about 2,000 children this year -- from about 47,000 to about 49,000 -- which means some classes will have to be slightly larger than in the past.
Criminal investigations are ongoing in three counties. The federal Department of Education is looking into the cheating allegations.
The report named 178 educators, 82 of whom confessed. The testing problems first came to light after The Atlanta Journal-Constitution reported that some scores were statistically improbable.
The state released audits of test results after the newspaper published its analysis.
The district has placed more than 130 of the educators named in the state's report on paid leave pending hearings, while another 40 or so have either quit or retired, district officials said. The district faces a budget shortfall of up to $10 million because of the hefty price tag that comes with keeping the implicated educators who haven't resigned or retired on payroll. They can't be fired until they're given due process.
On top of that, some schools also could owe hundreds of thousands of dollars in federal funding they received for good test performance.
Parent James Palmer moved his kindergartener, Leo, to a different school than where he's zoned because he worried about the culture at Benteen Elementary, one of the schools in the cheating report. Palmer said the final straw for him was when allegations emerged that whistleblowers at Benteen were punished or retaliated against. Investigators said they found a culture of fear and retaliation where many teachers felt pressured to improve test scores by any means possible.
He said he and a handful of other parents in his southwest Atlanta neighborhood have found other schools for their children. Others, he said, are trying to sell their houses so they can move to areas of town with better schools, he said.
"I felt a lot better about pursuing other options for my child," Palmer said about the details in the state's report. "It's a colossal breach of the public trust, a catastrophic breach of public trust. I don't know if it can ever be regained. But as a parent who loves living in Atlanta, in spite of the terrible circumstances that happened, we have a responsibility to still work to make our community schools better."