Alabama deputy fatally shot, another wounded in deadly shootout
By ,
Published November 30, 2015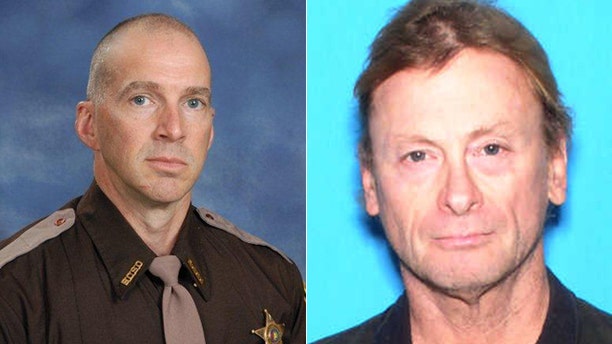 The shootout that left one Alabama deputy sheriff dead and another in critical condition on Saturday began when they checked on a man at his mobile home and he opened fire on them, authorities said.
Baldwin County Sheriff Huey Mack told AL.com that gunfire erupted Friday after Michael Jansen pulled a handgun on Deputy Scott Ward and his colleagues outside of Jansen's Fairhope-area home.
Ward was fatally wounded after responding about 4 p.m. with two other deputies to a family disturbance call at the residence. Deputies returned fire, killing Jansen.
Ward, 47, was transported by helicopter to University of South Alabama Medical Center in Mobile, where he was pronounced dead. The second deputy remained in critical condition at the same hospital Saturday afternoon. The third deputy was not hurt.
Mack did not release the names of the two surviving deputies.
Jansen, 53, was pronounced dead at the scene.
Mack told The Press-Register of Mobile that deputies had responded several times to deal with issues arising from Jansen's mental health. Court records show that his mother moved to have him committed in 2009 and in 2010, and that a probate judge agreed to send him to a state hospital twice in 2010. The newspaper reported that Jansen's mother had called 911 on Friday to report that he was agitated and wouldn't calm down.
A sheriff's office spokesman said Jansen was home alone when deputies went to check on him.
The county's Major Crimes Task Force was investigating the shooting, as was the department's internal affairs office. That is standard procedure when any officer is involved in a shooting.
Mack said the initial inquiry suggests deputies followed procedure.
The sheriff told AL.com that deputies approached Jansen on his porch to find out what prompted the initial call.
"That individual produced a handgun and began to fire at the deputies," Mack said. "Two of the deputies were struck by multiple gunshots."
Mack said the deputies, all of whom were wearing bullet-resistant vests, fired back.
Ward had been a Baldwin County deputy for more than 15 years, working on patrol, in the investigations unit and on the SWAT team. Before joining the Baldwin force, he was an officer for the city of Prichard, near Mobile. He was in the U.S. Coast Guard Reserve. Mack said he had recently returned from a deployment to Afghanistan. He is survived by his wife.
"Scott stood up ... and he did his job and in the course of the job he made the ultimate sacrifice," Mack said. "Tomorrow we will continue to grieve Scott, but we will have to move on. That's what Scott would want us to do because our mission does not stop."
https://www.foxnews.com/us/alabama-deputy-fatally-shot-another-wounded-in-deadly-shootout