Airline Mergers Paint Brighter Jobs Picture
By Jonathan Serrie, ,
Published November 30, 2015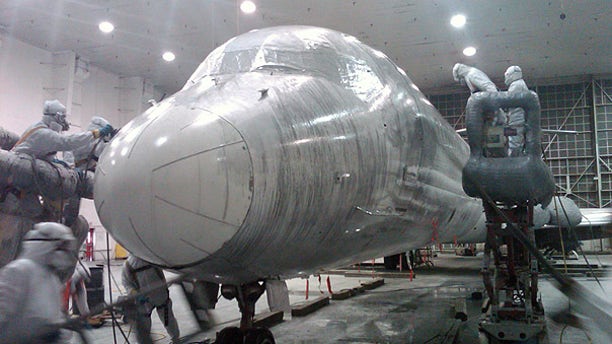 Financial struggles within the airline industry led to consolidation. But the mergers of major carriers, such as Delta and Northwest, United and Continental and Airtran and Southwest, have created demand for new logos and livery. And that, in turn, is creating new jobs.
"We've gone from under 500 jobs to currently one thousand jobs, and we're still hiring," said Kathryn Brewer, CFO of Leading Edge Aviation Services, an aircraft painting company based in Santa Ana, California. "We're looking to add 2- 3- 400 employees to our workforce."
Leading Edge operates paint facilities in four U.S. cities. At a former Air Force Base in Greenville, Mississippi, men and women clad in white suits and respirators are working round the clock shifts to convert Northwest planes into Delta jets, as well as painting the new design scheme for United, which incorporates the globe symbol and colors of Continental.
Aircraft paint must be able to withstand the huge fluctuations in temperature, wind and air pressure inflicted even by routine flights. The complex procedure of applying that paint can take 2 to 14 days and cost anywhere from $50,000 to more than $200,000, depending on the size of the plane and complexity of the design.
But as the airline industry shows signs of recovery, the major carriers are more willing to invest in branding and image.
"If you get on a plane and it looks bad, if it's dingy looking, you're just not gonna feel safe," Brewer said. "Safety is the paramount feeling that airlines want to give to their customer base. So when you've got a plane that looks new, looks well-maintained, then the customer's going to feel very confident getting on that plane."
https://www.foxnews.com/us/airline-mergers-paint-brighter-jobs-picture