Air Force prepares for new, old threats in Red Flag training exercises
By Andrew Craft, ,
Published February 20, 2018
Like gas stations attendants of the sky, a technician known as a boom operator manually positioned a refueling tube on a fighter jet below a tanker aircraft. He did this all while lying on his stomach on a platform below deck.
This allowed pilots of both aircrafts to practice docking and undocking from the extendable arm that dropped down from the rear of the tanker to fill up the fighter jets.
The simulated event happened at 30,000 feet, with the tanker flying upwards of 500 miles per hours.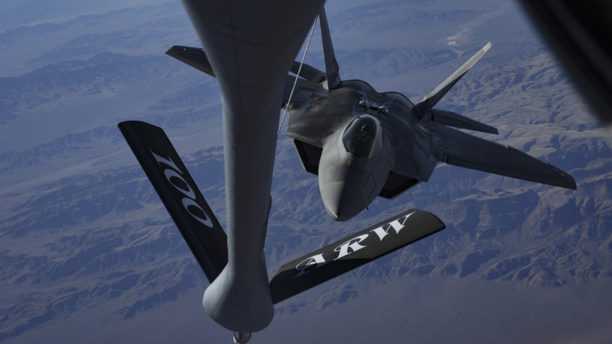 It was all part of a three-week training at Nellis Air Force Base outside Las Vegas. U.S. airmen and their allies from Australia and Great Britain took part in extensive training operations to prepare for evolving enemy threats.
"A lot of it is these opportunities to build that courage under fire in these training scenarios for when we later deploy," said Col. Richard Dickens, a Red Flag training commander from Seymour Johnson Air Force Base in North Carolina.
Throughout the flight, about four jets came up for refueling. On a normal day during the training, 10 to 12 jets will need to be refueled. Around 80 aircraft have taken off twice daily from the landing strips at Nellis during the training.
With the vast expanse of 15,000 square miles of restricted airspace and 2.9 million acres of land, the Nevada test and training range is an ideal space to mimic air-to-air combat and refueling missions simulating real-world threat scenarios.
Crews are divided into two groups – that of a mock enemy combatant, known as the red team, and the blue team, which is made to represent coalition forces. They engage each other in mock war games scenarios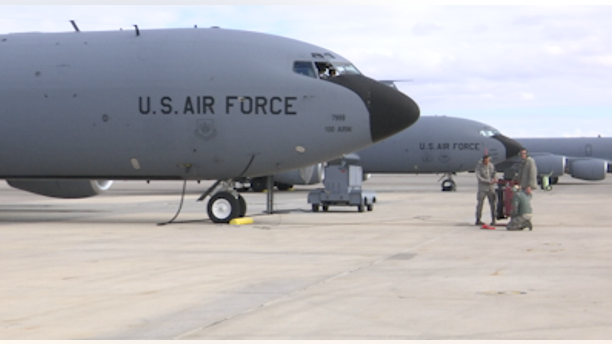 "I think it goes without saying that the U.K. and Australia are two of our closest allies of which we have great inner operability with and it provides another opportunity to allow that to happen on a high end," said Col. Christopher Zulke, commander of the Nevada Test and Training range.
The training exercises also allow for maintenance crews and ground controllers as well as space and cyber operators to support the "missions" with full integration.
Pilots from other bases around the country are also invited and bring back the knowledge and training they have learned.
Fox News was granted access to fly along in a KC-135R stratotanker that refueled F-16 and F-22 fighter jets in midair.
Opportunities for pilots to debrief after these training missions are an important part of the exercises. It allows them to go over things that they could have done differently and other aspects that worked and didn't work.
Red Flag training operations happen several times throughout the year at Nellis and this most recent one capped off the first exercise of the year.
Red Flag exercises began after the Vietnam War. It was found that the longer pilots were able to survive combat was directly related to the number of missions they experienced before actual engagement with the enemy, leading to more success in the air.
https://www.foxnews.com/us/air-force-prepares-for-new-old-threats-in-red-flag-training-exercises