$60M Texas high school football field closed due to structural flaws
By ,
Published November 28, 2015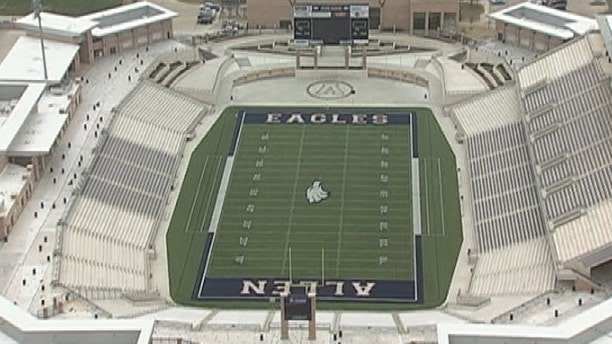 A North Texas high school's $60 million stadium that has been shut down since February amid structural flaws will remain closed through the fall football season.
The Allen Independent School District on Tuesday announced consulting engineers found "significant" structural problems at Eagle Stadium.
The decision, first reported by The Dallas Morning News, says Allen High School home games will be played in neighboring Plano.
Officials with the designer, PBK Architects Inc., and Pogue Construction on Monday said they're committed to correcting the problems.
Superintendent Lance Hindt says an updated interim engineering report from consultants hired by the district found design deficiencies in the elevated concourse and building codes not met.
"We wanted to avoid the legal wrangling of which party is responsible for what percentage of the repair and thought we had reached an agreement where each company would put money in escrow for us to use while their legal liability would be worked out later," said Allen ISD Superintendent Lance Hindt told MyFoxDFW.com. "I am frustrated that the insurers and their lawyers prevented this from happening."
The 18,000-seat stadium opened in 2012 but was closed in late February after cracks were discovered in the concourse.
The district said $2 million that was supposed to be placed into an escrow account to help cover repair costs has been withdrawn by the companies' insurance carriers, who refused to authorize the escrow payments.
Pogue Construction said in a statement it couldn't hand over the escrow money without "risking insurance coverage."
"Pogue and its subcontractors take responsibility for any repairs due to the quality of work or materials of subcontractors retained by Pogue," the company's president Ben Pogue said in a statement.
https://www.foxnews.com/us/60m-texas-high-school-football-field-closed-due-to-structural-flaws