5 people killed, at least a dozen more injured after possible tornadoes sweep through the Deep South
By ,
Published December 01, 2016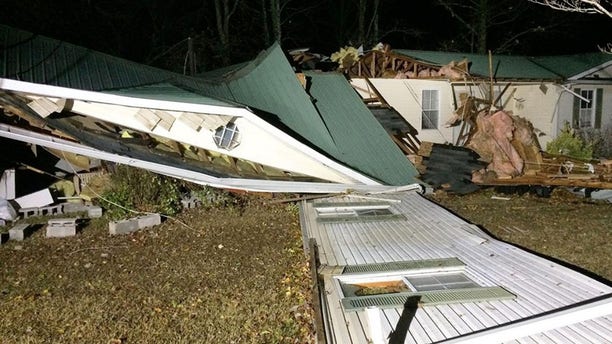 At least five people were killed while three children at a daycare center were injured after powerful thunderstorms and possible tornadoes swept through the South overnight and into Wednesday morning, officials said.
Jackson County Chief Deputy Rocky Harnen said early Wednesday that three people living in a mobile home in the northeastern community of Rosalie, Alabama were killed. Another person in the home was critically injured, he added.
Emergency officials said at least a dozen more people were injured early Wednesday in the severe weather that hit the South.
The National Weather Service was assessing damage from multiple possible tornadoes across the region. At least five hit Alabama, and three more struck southern Tennessee, and one confirmed in Louisiana and at least four in Mississippi, forecasters said.
Tennessee Emergency Management Agency spokesman Dean Flener says a husband and wife died and two others were injured in Polk County. He said at least seven injuries were reported in nearby McMinn County. He didn't have further details on what happened.
Officials in DeKalb County, Alabama said the possible tornado hit a closed day care center in the Ider community, injuring seven people, including three children.
"Those that were injured at the day care center had left their mobile home to seek shelter in the building," said Anthony Clifton, DeKalb County Emergency Management Director.
Clifton said 50 to 60 homes in the county had been damaged with about half of them destroyed.
Harnen said there were a number of other injuries and estimated that 16 to 20 structures in the county have been destroyed. He could not give an exact number of injuries. The suspected tornado affected an area of homes and businesses that covered nearly half a mile, Harnen said.
Harnen and Clifton said authorities were searching door to door before dawn Wednesday for any other damage and injuries.
Tornadoes and hail were also reported Tuesday in Louisiana and Mississippi. In Mississippi, the National Weather Service in Jackson said late Tuesday that it had counted six confirmed tornadoes so far in the areas of the state it monitors.
Despite dozens of tornado warnings, authorities said no one was injured in Mississippi, but six homes were reported destroyed in one southeastern county. Mississippi Public Service Commissioner Brandon Presley said he came upon a UPS truck that was blown onto its side and hit a pickup truck.
"I've never driven through something like this in my life," Presley said.
Rain provided some relief for Tennessee which has been dealing with wildfires. Firefighters were still checking for hotspots, officials said.
Some people had to deal with more than one problem.
One crew that spent all Tuesday night fighting fires in Gatlinburg, Tennessee left the fire scene only to help respond to a tornado in McMinn County, Tennessee, said Fire Chief Bill Roach of Englewood, Tennessee.
"They're wore out," Roach said. "They've had very little sleep, and I know I've had two hours since Monday morning. We're to our limits."
The Associated Press contributed to this report.
https://www.foxnews.com/us/5-people-killed-at-least-a-dozen-more-injured-after-possible-tornadoes-sweep-through-the-deep-south