3rd ID Soldiers to Deploy to Europe this Year in Response to Russia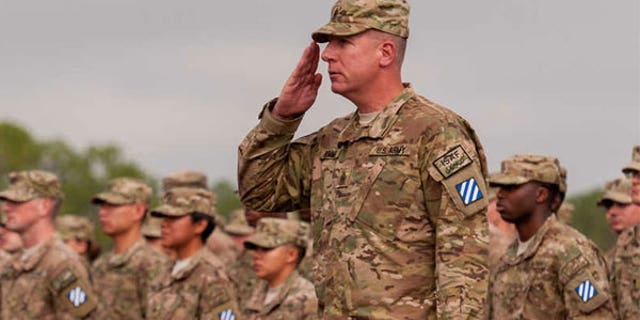 The U.S. Army plans to deploy more soldiers to Eastern Europe later this year in a show of force against Russian military involvement in the Ukraine, a general said.
Soldiers with the 1st Brigade of the 3rd Infantry Division in September will deploy to the region "to conduct exercises and response to Russian aggression in Eastern Europe," Gen. Dennis Via, head of Army Materiel Command, said during a conference on Wednesday in Huntsville, Ala.
The troops will succeed the 1st Brigade Combat Team of the 1st Cavalry Division in taking over a suite of equipment known as the European Activity Set, which includes hundreds of Abrams tanks, Bradley fighting vehicles and Paladin self-propelled howitzers in such countries as Estonia near the Russian border, he said.
His command is working to build the set, which includes more than 1,000 combat vehicles, from battalion-sized to brigade-sized, Via said.
The decision last year to deploy additional soldiers and weapons to Europe was a critical part of demonstrating the military's commitment to allies in the region, according to Lt. Gen. Ben Hodges, commander of U.S. Army Europe, who spoke at the conference organized by the Association of the United States Army.
"That will remain permanently in Europe for the rotational brigade combat teams to use," he said of the equipment. "Even the choice of the name, European Activity Set, would imply that they're going to be used as opposed to just being stored or pre-stocked somewhere."
The rotational force joins an existing U.S. Army contingent of about 30,000 soldiers in Europe and has already participated in training exercises with units from France, Germany, Lithuania and Latvia, the generals said. The service this month ordered a convoy of Stryker combat vehicles on a 1,100-mile convoy through six European countries as part of Operational Atlantic Resolve.
The U.S. Air Force last month sent a dozen Cold War-era A-10 attack aircraft, along with 300 airmen and support equipment, to Spangdahlem Air Base in Germany amid the escalating assault from pro-Russian separatists in the Ukraine. Other American aircraft now based in the region include AH-64 Apache and CH-47 Chinook helicopters.
In deploying a rotational force to partner with allies, Hodges said the Army is trying to produce the appearance of having a larger force in Europe, even though the size of its footprint there is a fraction of what it was decades ago. There were less than 29,000 soldiers in the region as of last year, according to Defense Department statistics.
"We're going to create the effect of 300,000 [soldiers] with 30,000 plus the rotational force, if we are as effective as possible working with our allies," he said. "There's huge risk. I don't want to say that it'll be the same. Obviously, it's not. But I think as long as the Army is resourced by the Congress to be able to maintain the capacity that we have and to continue to provide for the rotational force, then I think we've got it about right."
Lt. Gen. H.R. McMaster, director of the Army Capabilities Integration Center, acknowledged "there are limitations" to the strategy. "You can't do everything you would like to do in terms of deterring conflict and shaping security environments with a rotational force," he said.
McMaster also questioned the notion that a smaller but more technologically savvy Army will be adequate to combat future threats. After recently increasing in size to 570,000 soldiers in 2008 at the height of the war in Iraq, the active component has less than 500,000 troops today and is on pace to shrink to 475,000 soldiers by next fiscal year.
"It has become an element of conventional wisdom that we can be prepared for the future -- future conflict -- by cutting capacity and manpower in the armed forces," he said. "And compensating for those cuts and making the force smaller with greater investments in high technology solutions to the problems of future war."
He added, "Of course, if we had more brigade combat teams, a logical place to put one an extra one would I think be in Europe. But, of course, that's a policy issue and it is related to the capacity issue."
-- Brendan McGarry can be reached at brendan.mcgarry@military.com