Woman's kind deed convinces Calgary Airport to lower tampon prices
By Michelle Gant, ,
Published December 04, 2017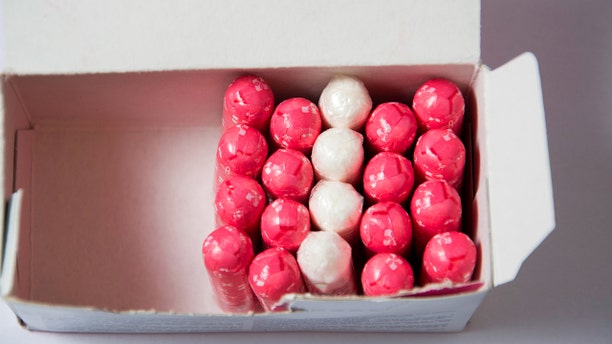 An anonymous woman is being lauded as a sort of hero after her kind deed resulted in the Calgary Airport lowering the price of tampons.
The traveler left behind a handwritten note and a box of tampons in the airport bathroom saying the tampon machine didn't work so she was forced to pay $12 to buy a box from the nearby shop.
"Please take one," she wrote, leaving behind a nearly full box for others to use. She also slammed the airport, calling their prices "not acceptable."
THIS WOMAN BEAT 17,000 APPLICANTS FOR THE 'BEST JOB ON THE PLANET'
After someone uploaded a photo of the note and tampons on Reddit, the woman's deed quickly went viral. "Lady bro in the bathroom of the Calgary Airport! I appreciate you!" the Reddit user wrote alongside the image.
"This will be a life saver for other women. I love it," another user commented.
After receiving a mass amount of attention online, airport staff caught wind of it and responded by lowering the price of tampons to $6.25, BBC reports.
"Update: Our maintenance team has checked and filled all vending machines in the washrooms, and our retailer Relay has adjusted the price of tampons to $6.25, effective immediately," the airport wrote from its verified Reddit account.
FOLLOW US ON FACEBOOK FOR MORE FOX LIFESTYLE NEWS
Calgary Airport Authority spokesperson Dean Paddock additionally confirmed the price change in a statement to CTV Calgary.
"We strive to provide our guests with the best experience when they visit YYC. When we hear of ways we can collectively do better, we do. Once we became aware of a recent visitor's feedback, we shared it with our partners and we were pleased to see our airport community come up with a solution. We can also advise that our maintenance teams have checked all machines and confirmed each is in service."
https://www.foxnews.com/travel/womans-kind-deed-convinces-calgary-airport-to-lower-tampon-prices