Why traveling to Antarctica may be the hottest ticket in town
By Eileen Ogintz, ,
Published March 13, 2017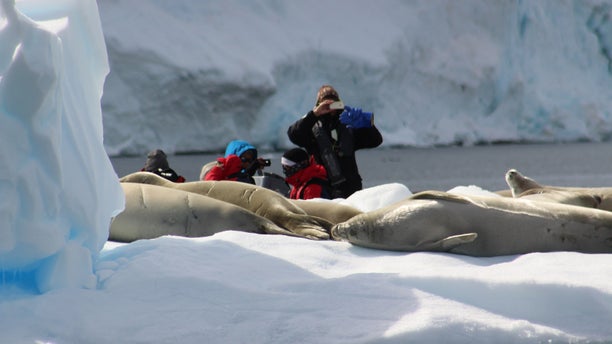 South Georgia had a big problem. Rats and mice were decimating its native birds' eggs and chicks.
The rodents, which arrived on ships during the 19th and early 20th centuries, had spread over much of the island, home to 90 percent of the world's Antarctic fur seals, half the world's elephant seals and four species of penguins, including 400,000 king penguins.
"Rats had access to every nest," Sarah Lurcock, site director of the South Georgia Heritage Trust, told travelers on an Abercrombie & Kent charter cruise to the Falklands, South Georgia and Antarctica. As a result, the main island, one of the world's last great wilderness areas, had been all but abandoned by its native inhabitants — storm petrels, blue petrels and prions. And the South Georgia Pip was threatened.
Enter Team Rat, the world's largest rodent eradication project. Lurcock told her listeners that a $145 donation would help eradicate rats on 1 hectare (2.7 acres) of the island. "If we miss a single pregnant female rate, we would fail," she said.
The program, now in its fourth phrase, is working. Pipits, the world's most southerly songbirds, found only in South Georgia, are nesting again.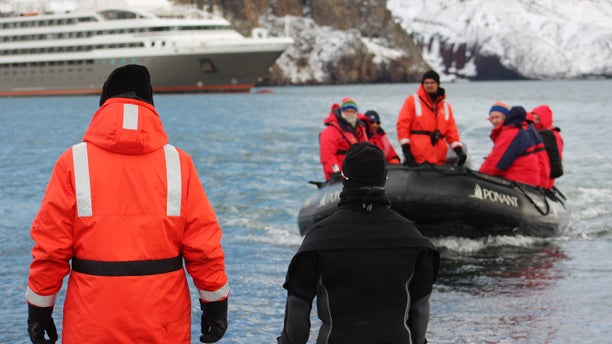 But that good news is tempered by concerns about the impact of climate change. Scientists are anxiously anticipating what they predict will be one of the largest breakoffs ever recorded from Antarctica's Larson Ice Shelf.
They say the breakoff of an iceberg the size of Delaware could destabilize and contribute to the melting of the inland glaciers on the frozen continent, which could raise sea levels. Scientists at the British Antarctic Survey recently announced they won't remain at their research station in the Antarctic winter because if the situation worsens, evacuation may be impossible.
These environmental concerns are being aired as Antarctica increasingly becomes a destination for tourists – and especially younger tourists. According to the International Association of Antarctica Tour Operators (IAATO), which was formed 25 years ago to promote and advocate for environmentally responsible tourism, nearly 44,000 visitors are expected this season, most of them by ship. Landings grew 10.5 percent last year, with American and Australian tourists leading the way, followed by Chinese.
Tourism is tightly regulated — from where boats may dock, to staff rations, to guidelines for watching marine wildlife, to wilderness etiquette (the animals have the right of way), to garbage policy. Only 100 people at a time may visit a beach teeming with thousands of nesting penguins, sea birds and elephant and fur seals. To avoid introducing alien species, tourists must disinfect their boots in special solutions after landings, and they must vacuum their jackets and backpacks before setting shore again. Tourists aboard ships carrying more than 500 passengers can't land at all. For those who can, all activities — from kayaking to climbing to walking on the beach — must be assessed for environmental impact.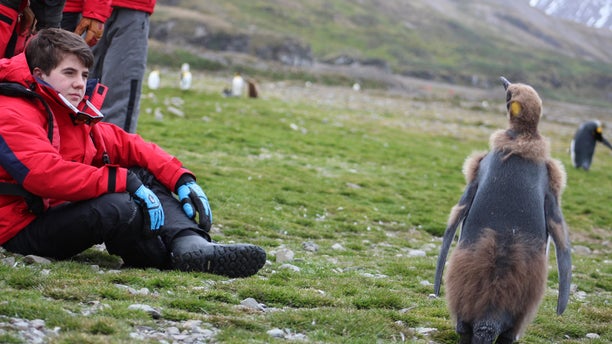 Amanda Lynnes, a spokeswoman for IAATO, said the organization believes the increasing number of visitors hasn't had a discernible environmental impact. She added that long-term monitoring of human activity and tourism is vital and must be a collaborative effort involving the tourism industry, conservation groups and the more than 50 nations that have signed the Antarctic Treaty.
While South Georgia is part of the United Kingdom, Antarctica — the only continent without a native human population — is overseen by the treaty parties, which include the United States.
The new attention on Antarctica and the increasing number of visitors can have a positive impact, said Dr. James McClintock, a biology professor and Antarctica expert at the University of Alabama at Birmingham. A national authority on the effects of climate change in Antarctica and author of "Lost Antarctica — Adventures in a Disappearing Land," McClintock has been conducting research for the National Science Foundation Research on the continent for some 25 years.
He said he was nervous about tourism until he had the opportunity to lecture to tourists. "I've been very impressed with the companies taking people to Antarctica," he said. "The do all they can to be good citizens, and I watch guests being very conscious and careful."
"They go home as ambassadors to Antarctica. They talk to senators and congressmen…. They've seen climate change with their own eyes, receding sea ice, retreating glaciers, the impact on sea life as a result.
Antarctica, he said, "is an otherworldly experience to visit," one that offers "a sense of our planet that you won't get anywhere else."
At least for now.
https://www.foxnews.com/travel/why-traveling-to-antarctica-may-be-the-hottest-ticket-in-town