Six Flags announces new DC Comics, Warner Bros. attractions for 2017
By , Donald Wood
Published September 06, 2016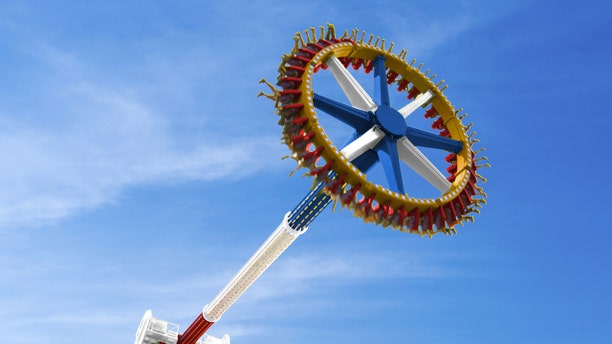 Six Flags theme parks announced the new rides and attractions for each of its amusement parks for the 2017 season on Thursday, including a host of new Warner Brothers and DC Comics branded experiences.
New to the theme park company's portfolio is the Justice League: Battle for Metropolis 3-D interactive dark rides coming to Six Flags Magic Mountain, Six Flags Great Adventure and Six Flags Over Georgia.
Another highly anticipated attraction gaining mainstream attention is The Joker roller coaster coming to Six Flags Over Texas, Six Flags Great America and Six Flags New England. The 12-story coaster flips passengers over at least six times during the ride.
In addition, Six Flags America and Six Flags Discovery Kingdom will be opening the Wonder Woman Lasso of Truth extreme swing ride, La Ronde will open the Titan at La Ronde attraction and Six Flags Fiesta Texas will be home to North America's first rocket blast water coaster, Thunder Rapids.
Also being added to the Six Flags parks will be Spinsanity at Six Flags St. Louis, the Bonzai Pipelines dueling water slides at The Great Escape and Splashwater Kingdom and The New Revolution virtual reality roller coaster at Six Flags Mexico.
More from TravelPulse
5 Things to Do in Flushing Meadows, New York (Besides the US Open)
America's 3 Most Underrated College Football Towns
Discover the Best Beaches of Argentina
Top 6 Budget-Friendly Ways to Enjoy Toronto
6 Absolute Musts To Do In The Bahamas
The amusement park chain is adding the new 67-acre Hurricane Harbor Oaxtepec Mexico water park to its portfolio, scheduled to open in February 2017.
"We are tremendously excited about the 2017 season and look forward to delighting our guests with the types of innovative rides, attractions and signature events they have come to expect from Six Flags," Six Flags CEO John Duffey said in a statement.
"We are equally thrilled to be adding a new park—Hurricane Harbor Oaxtepec Mexico—to the Six Flags family as we build on our commitment to deliver world-class entertainment for guests of all ages at every park, every year."
https://www.foxnews.com/travel/six-flags-announces-new-dc-comics-warner-bros-attractions-for-2017