John McAfee posts bizarre tweet, says his enemies are trying to kill him
By ,
Published June 22, 2018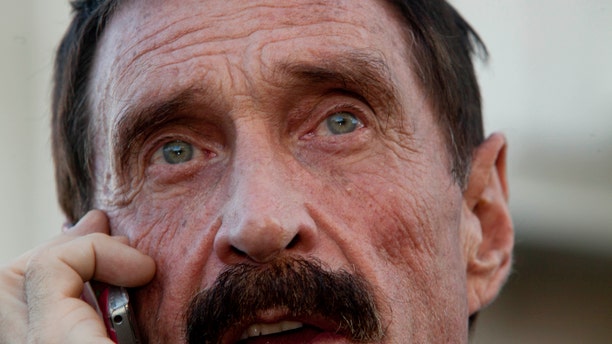 Controversial anti-virus legend John McAfee posted a bizarre tweet on Friday, saying that his enemies had spiked something he ingested.

"I apologize for my three day absence but I was unconscious for two days at the Vidant Medical Center in North Carolina and just woke up," McAfee tweeted. "My enemies maged [sic] to spike something that i [sic] ingested. However, I am more difficult to kill than anyone can possibly imagine. I am back."
McAfee followed that up with a tweet containing pictures of what appears to be him lying on a hospital bed.
The 72-year-old British-born tech exec founded computer anti-virus company McAfee Associates in 1987. He eventually resigned from his namesake company in 1994.
FORMIDABLE 'JAGUAR' RECON VEHICLE REVEALED, TOUTS POWERFUL CANNON AND ANTI-TANK MISSILES
In recent years, McAfee has garnered more attention for his run-ins with the law than his technical prowess.
In November 2012, Belize police searched for McAfee as a "person of interest" in connection with the murder of American ex-pat Gregory Viant Faull, who was found dead of a gunshot wound and was also a neighbor of McAfee.
McAfee refused to answer the police's questions, fearing they would kill them.
McAfee eventually fled Belize and was spotted in Guatemala, where he was arrested for illegal entry into the country, detained and ultimately released and deported to the U.S.
In 2013, McAfee's island home burned down under circumstances he described to Fox News as "suspicious."
In 2015, McAfee was arrested in Tennessee for driving under the influence and one count of possession of a firearm.
https://www.foxnews.com/tech/john-mcafee-posts-bizarre-tweet-says-his-enemies-are-trying-to-kill-him