Digital last, last-minute gifts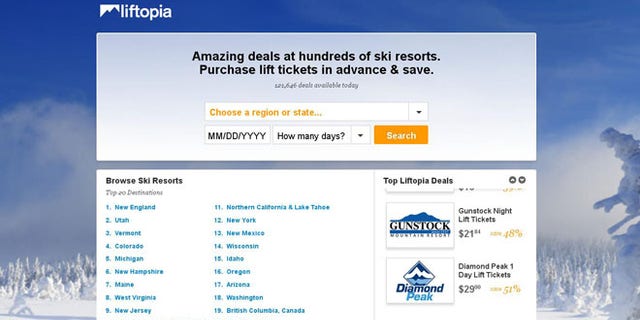 Now you're up against it. You're about to step into the Gift Card Zone.
You can run out and get a Gap gift card or email an Amazon gift card, but that's the equivalent of sending a mass "Happy Holidays!" e-card. It lacks the personal touch, to say the least. But there are some digital gift ideas that actually convey the idea that you put some thought and effort into what the recipient really wanted for Christmas. Here are some last-minute ideas that won't seem so, well, last-minute.
For Skiers
Buying someone a set of boots, bindings, and skis can be tricky and expensive. But skiers can always use a lift pass. The advantage of Liftopia is that you don't need to know where your friend likes to hit the slopes. Just buy him a Liftopia gift card and he can use it toward rentals, lessons or tickets at one of over 150 resorts in North America. The gift cards carry no expiration date, and if you're looking for a little holiday cheer at home, you can get some serious discounts on advance lift tickets for yourself at the site. One proviso: If the weather turns sour on the day of your ticket, there are no refunds.
E-book Subscription
Voracious readers always enjoy receiving books, but finding a good one that they haven't already read can be hard. And more people are using electronic readers, so what to do? Get them a subscription that lets them read as many e-books as they want. One of several such e-book clubs is Oyster. For $9.95 a month, subscribers can read as many books online or off as they want, and you can give a subscription as a gift. Oyster offers one of the largest libraries online, but it works only on Apple iOS devices.
Goodbye iTunes
I still love CDs, but the simple fact is that people don't use them much any more. They don't even buy many tracks online. So for the music lover on your list, the best (and easiest) gift is a subscription to a streaming music service. The best I've found are Spotify and Rdio. Buy her a gift card and she can get premium service without ads and at a better bit rate for higher quality sound, which everyone appreciates. Both services are $9.99 a month for unlimited play at home on devices like Roku and Sonos, or on a smartphone.
There's An App for That
Yes, you can get an iTunes gift card for a friend, but like those Gap and Amazon cards, the subtext is: I really don't know much about you or what you like. Better to put a little thought into it today and get him an app that reflects his interests. There are scores of travel apps, for example, like TripIt for major road warriors, games and countless other diversions. There are even pro-level music apps, such as UltraTuner ($4.99) for musicians. You can purchase iPhone apps as gifts in the iTunes store and email them directly to the person. Android users can buy a Google Play gift card, which brings us back to our original problem of sending generic gift cards. Well, maybe next year you'll start shopping earlier. Or not.