Violence Erupts on Anniversary of Greek Riots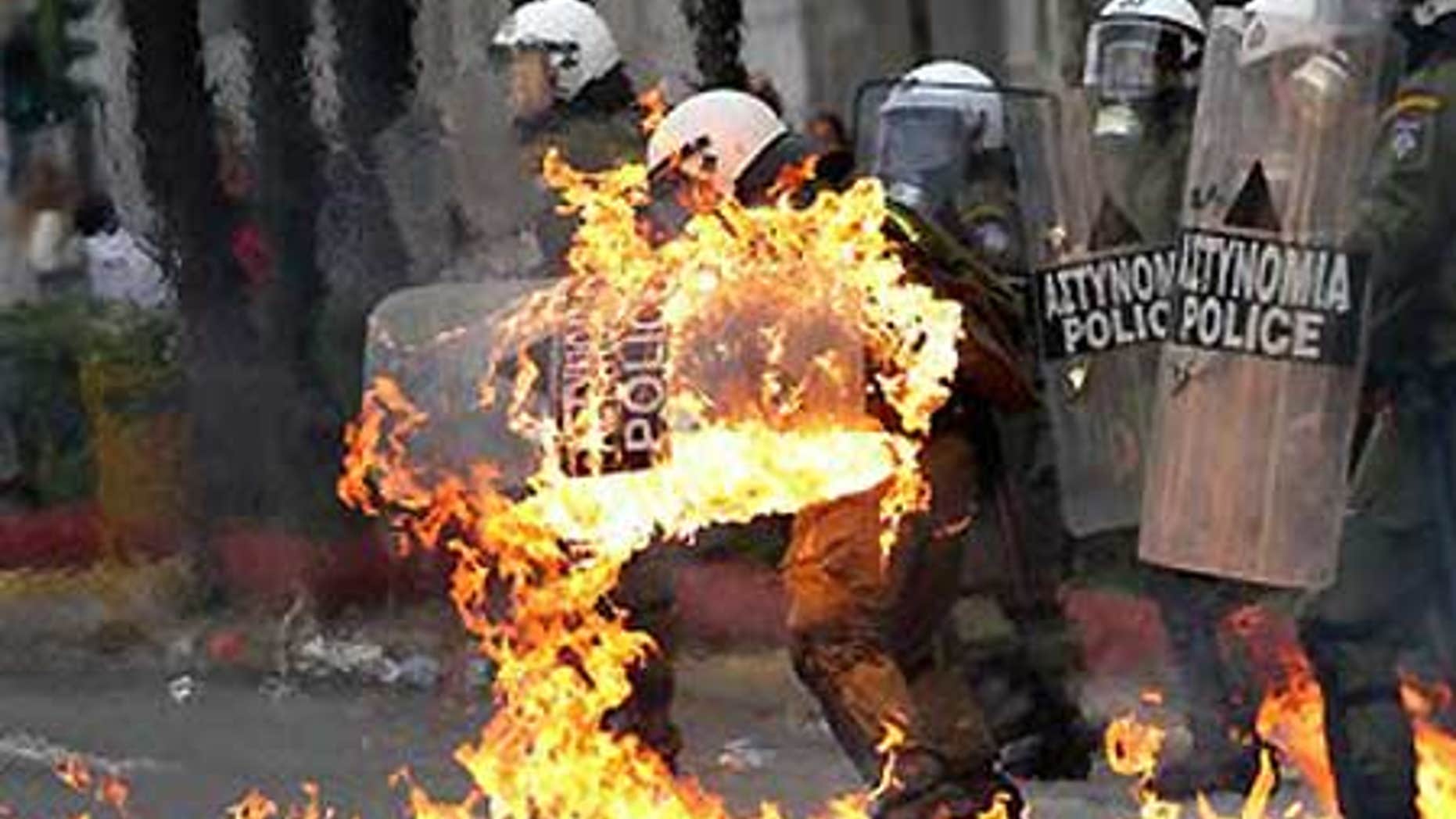 ATHENS, Greece – Masked youths hurled firebombs and jagged chunks of marble at police as violence erupted during a march in Athens Sunday to mark the first anniversary of the police shooting of a teenager whose death sparked massive riots.
Police fired volleys of tear gas to disperse the youths in running street battles in the center of the capital as several thousand demonstrators marched to commemorate the death of 15-year-old Alexandros Grigoropoulos. The teenager's death had sparked some of Greece's worst riots ever, with youths rampaging through cities for two weeks last December, protesting police violence.
On Sunday, the rioters smashed bank windows, overturned trash bins and set them alight as they hurled rocks and fire crackers at riot police. Authorities said at least 48 people were detained for public-order offenses in Athens and another 50 in the northern city of Thessaloniki, where a similar demonstration also degenerated into violence.
At least five protesters were injured in the clashes.
Police on motorcycles chased rioters amid scenes of chaos at Athens' main Syntagma Square, with youths punching and kicking officers pushed off their bikes. One policeman who lost control of his motorbike struck a pedestrian woman, who was injured and later transported to the hospital in an ambulance.
At Athens University, masked protesters broke into the building and pulled down a Greek flag, replacing it with a black-and-red anarchist banner.
The dean of Athens University was injured when the youths broke into the building, and was hospitalized in an intensive care unit, authorities said.
As night fell, about 200 masked demonstrators were holed up in the neoclassical university building, smashing marble chunks off the university steps and ripping up paving stones from the courtyard to use as missiles against the police.
In Thessaloniki, Greece's second-largest city, youths threw gasoline bombs at police, set fire to several cars and smashed 10 storefronts, including a Starbucks cafe.
More than 6,000 police had been deployed across Athens in an effort to prevent violence. Before the demonstration, concern had been heightened by reports that far-left groups and anarchists from other European countries, mainly Spain and Italy, had traveled to Greece to join the marches.
Before Sunday's clashes, police detained 160 people following minor clashes in central Athens and a raid on a cafe, where police seized sledgehammers and firebomb-making equipment.
Grigoropoulos was killed by a policeman's bullet on the evening of Dec. 6, 2008. Within a few hours of his death, riots spread from the Greek capital to several cities across the country, with police apparently powerless to prevent youths from smashing, looting and burning stores in violence that continued for two weeks.
The new Socialist government, which came to power in October and has been confronted with a surge in armed attacks by far-left and anarchist groups after last year's shooting, and had vowed a zero-tolerance approach to violence at Sunday's commemorations.