U.S. General in Afghanistan Probes Airstrike Death Claim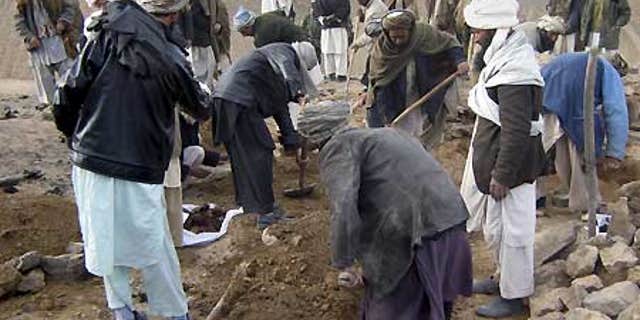 KABUL – A U.S. general traveled to western Afghanistan on Wednesday to investigate claims that six women and two children were killed in a U.S. airstrike, officials said. Photographs of the site showed at least one dead boy, bloodied and dirty from the attack.
Civilian deaths have been a huge source of friction between the U.S. and President Hamid Karzai, who has increased demands that American troops avoid killing civilians.
Karzai's office announced Wednesday that he had spoken on the phone with President Barack Obama for the first time Tuesday, four weeks after Obama's inauguration. Karzai had acknowledged last week that the two presidents had not spoken and said there was tension in the U.S.-Afghan relationship, mostly over civilian casualties.
The Afghan Ministry of Defense condemned the deaths of civilians in Monday's airstrike and said it came despite a recent U.S.-Afghan agreement to increase participation of Afghan forces in U.S. missions, a step aimed at preventing civilian casualties.
The U.S. coalition said in a statement that the strike Monday in the Gozara district of Herat province killed 15 militants and targeted a leader named Ghulam Yahya Akbari.
But Ekremuddin Yawar, a police commander for western Afghanistan, said six women and two children were among the dead, along with five men. He said the group was living in tents in the remote Afghan countryside.
Photographs obtained by The Associated Press from the site show the body of a young boy — bloodied and dirtied — lying on a white shroud. Afghan men can be seen digging about a dozen fresh graves. Dead sheep and destroyed tents can also be seen.
In response to Yawar's allegation, U.S. Brig. Gen. Michael Ryan traveled to Gozara district on Wednesday to meet with officials "to see what the situation is," said Capt. Elizabeth Mathias, a U.S. military spokeswoman.
Coalition and Afghan troops have been at the site of the operation since Tuesday investigating, she said. The Afghan army also conducted a meeting, known as a shura, with local leaders over the issue.
For now, the U.S. is standing behind its information that 15 militants were killed, she said.
The Ministry of Defense said seven militants were killed in the attack, including three people it named as associates of Yahya Akbari. Neither it nor the U.S. said Yahya Akbari was killed.
The ministry said the militants had hidden in civilian houses, causing an unspecified number of civilian deaths. However, the photographs showed no homes — only tents — and it wasn't clear what the ministry was referring to.
An ethnic group of Afghans known as Kuchis travel the countryside with livestock and live in tents.
After increasingly angry demands by Karzai for more U.S.-Afghan military cooperation, the American and Afghan militaries announced plans this month to increase the number of Afghans who will take part in U.S. operations.
Despite condemning the civilian deaths, the ministry noted it would take more time to implement the agreement. But it urged U.S. forces to "be very careful during their operations."
The investigative team's trip to Herat comes one day after the U.N. released a report saying that a record 2,118 civilians died in the Afghan war last year, a 40 percent increase over 2007.
The report said U.S., NATO and Afghan forces killed 829 civilians, or 39 percent of the total. Of those, 552 deaths were blamed on airstrikes.
On the same day he telephoned Karzai, Obama announced he was deploying an additional 17,000 U.S. forces to Afghanistan to bolster the 33,000 already in the country. That plan increases the chances that more civilians could be killed in 2009 than 2008.
The two presidents spoke about security issues and Afghanistan's presidential elections in August, Karzai's office said.
Karzai spoke with former President George W. Bush regularly, fueling speculation that Obama was sending a clear signal by not calling sooner that Karzai's standing with him was much lower.
But last weekend Obama's special envoy for Afghanistan and Pakistan, Richard Holbrooke, met with Karzai for talks in Kabul, and Karzai spokesman Humayun Hamidzada said those discussions were a big step toward a strengthening of relations.
U.S. commanders have requested more troops to battle an increasingly bloody Taliban insurgency. Militant attacks have spiked in the last three years and insurgents now control wide swaths of territory. Obama has promised to increase the U.S. focus on Afghanistan as the military draws down troops in Iraq.