Tiger Woods Plans to Help With Haiti Relief Efforts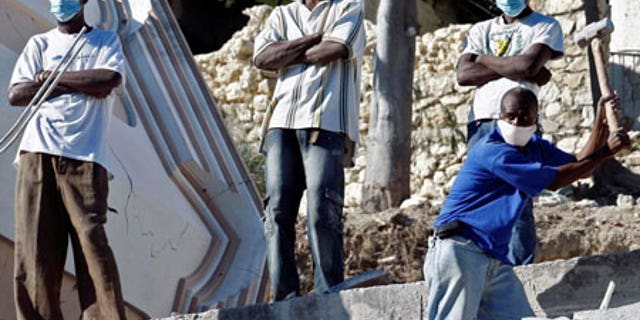 IRVINE, California – Tiger Woods plans to help with relief efforts in earthquake-ravaged Haiti by supporting groups providing resources to children.
Tiger Woods Foundation president Greg McLaughlin said on Friday he hadn't received any information from rap mogul Russell Simmons, who said on Twitter that Woods was providing $3 million to help with the recovery.
McLaughlin said the foundation staff was evaluating "the most appropriate role" to help the Haitian people.
"Our plan is to be part of the relief effort to help rebuild Haiti by supporting organizations that provide critical resources to young people, which is consistent with our mission and previous efforts regarding Hurricane Rita, Hurricane Katrina and the 2004 tsunami," McLaughlin said in a statement.
Woods, who has not been seen since a Nov. 27 car accident and subsequent firestorm over extramarital affairs, established the foundation when he turned pro in 1996. Its most recent annual report says it has reached over 10 million children.
More help in the sports world was coming from the NFL, the NBA and stars Alonzo Mourning and Dwyane Wade, and NASCAR's leading Hendrick Motorsports team.
The NFL and the players' union will contribute $1 million, split between the American Red Cross and Partners In Health.
The NFL and its network broadcast partners will also run messages before and during this weekend's playoff games to promote donations for Haiti. The messages feature New Orleans linebacker Jonathan Vilma and San Diego defensive end Jacques Cesaire, who both have Haitian parents
In addition, NFL owners and players are making personal donations. The Washington Redskins say they are joining Diageo, one of the team's business partners, to fly medical supplies, personnel, and clothing to Haiti.
The NBA and its players' association also will contribute $1 million.
They said they would join with UNICEF and other relief agencies to provide assistance, and Haiti native Samuel Dalembert of the Philadelphia 76ers has taped a public service announcement for UNICEF encouraging fans to contribute.
Dalembert will address the crowd before his home game on Friday and make a $100,000 donation to UNICEF. He will also match the donations made by fans at the game.
Mourning arrived in devastated Port-au-Prince on Friday to assist relief workers. The retired NBA star was joining Dwyane Wade and other pro athletes in raising funds for the recovery.
The Miami Heat also announced plans to send money and supplies, and the team asked fans to give donations in exchange for ticket vouchers to games.
Hendrick Motorsports loaned a 45-passenger plane to Missionary Flights International, which will send support teams in and out of Port-au-Prince. The first flight is scheduled to leave Fort Pierce, Florida on Saturday and will take 30 passengers and medical supplies into Haiti.
Rick Hendrick, who owns the NASCAR team, was covering all costs of the flights.
The Red Cross estimates 45,000 to 50,000 people were killed in Tuesday's earthquake.