Tiger Woods' Mother-in-Law Released From Hospital After Emergency Call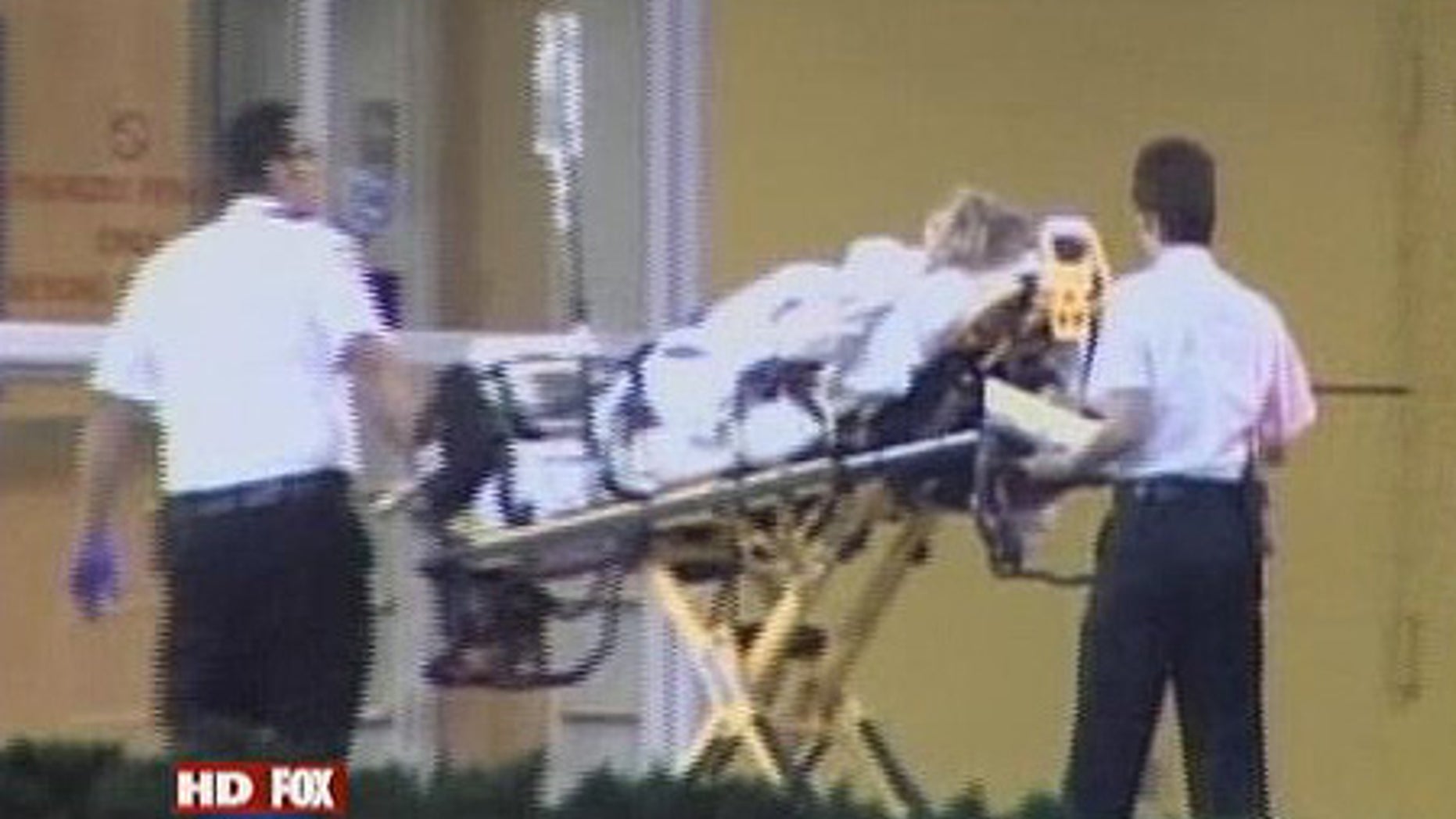 Tiger Woods' mother-in-law was released from the hospital Tuesday, 11 hours after a pre-dawn emergency call was made from his Florida mansion because she was suffering from stomach pains, according to a hospital spokesman.
Dan Yates of Health Central Hospital said someone called 911 from the golfer's Orlando-area mansion about 2:35 a.m. Tuesday. Barbro Holmberg, the mother of Woods' supermodel wife Elin Nordegren, was taken away by ambulance.
She was released Tuesday afternoon, about 11 hours after she was admitted, and returned to Woods' mansion, according to Yates. She'd been listed in stable condition.
Holmberg, who arrived in the U.S. a few days ago from Sweden, was taken by ambulance to Health Central in Ocoee, Fla. — the same hospital where Woods was treated after he crashed his SUV outside his home last month.
Woods lives in the gated Isleworth community in Windermere, Fla.
Yates said Holmberg was in a private room during her hospital stay and the family hired additional security to keep the media away.
He said family members visited her, but he would not say who.
"She's in a wing that helps protect her privacy," Yates said earlier Tuesday.
Media attention has been focused on the world's No. 1 golfer since he hit a hydrant and a tree around 2:25 a.m. on the Friday after Thanksgiving.
According to WESH-TV, Woods' mother-in-law was transported by ambulance from his multimillion-dollar home "on advanced life support" after firefighters received a call at 2:36 a.m. Tuesday.
Footage shot outside Health Central showed a blond woman on a stretcher being taken inside.
A black SUV — similar to the one Woods crashed the day after Thanksgiving — showed up at the hospital minutes later, according to witnesses. The license plate number had one character that was different from the plate on Woods' vehicle. A witness told Fox News that a "nice-looking blond woman" who resembled Woods' wife was driving the SUV that arrived at the hospital.
Eva Malmborg, a spokeswoman for Holmberg, said she was informed by a family member that Holmberg was admitted to a hospital in Florida due to stomach pains but was feeling well "considering the circumstances."
Malmborg said that as far as she knows, Holmberg doesn't suffer from any disease.
Holmberg's deputy, Olov Rydberg, said in a statement that Holmberg is expected back at her job as Gavleborg county governor in central-east Sweden next week.
Meanwhile, RadarOnline.com reported that Woods' wife moved out of the couple's home and is living in a house nearby.
The report came after several women claimed to have engaged in relationships with the golf star.
Click here for photos of the women linked to Woods.
Woods was taken to the hospital on Nov. 27 after crashing his SUV into a fire hydrant and tree just outside his mansion.
TMZ reported early Tuesday that Woods was admitted under the alias "William Smith" as having suffered an overdose.
Sources at the Health Central Hospital reportedly said Woods' admissions chart specified "OD" and mentioned that he was having trouble breathing.
A police report on the crash released Monday showed that a Florida trooper who suspected Woods was driving under the influence sought a subpoena for the golfer's blood results from the hospital he was taken to after the crash, but prosecutors rejected the petition for insufficient information.
A witness, who wasn't identified in the report, told trooper Joshua Evans that Woods had been drinking alcohol earlier. The same witness also said Woods had been prescribed two drugs, Ambien and Vicodin.
The report did not say who the witness was but added it was the same person who pulled Woods from the vehicle after the accident. Woods' wife, Elin, has told police that she used a golf club to smash the back windows of the Cadillac Escalade to help her husband out. His injuries were minor.
The sister of a neighbor who called 911 after the crash told troopers that Holmberg and Woods' mother were also at the scene, but the AP has not been able to confirm that.
The Florida Highway Patrol cited Woods for careless driving and fined him $164 after the crash but said no further investigation would be done and no criminal charges would be filed.
The accident — and Woods' refusal to answer questions about it — fueled speculation about a possible dispute between him and Elin.
A story by the National Enquirer published two days before the crash alleged Woods had been seeing a New York nightclub hostess, Rachel Uchitel.
Uchitel and Woods have denied the affair. Uchitel's high-profile attorney, Gloria Allred, abruptly canceled a scheduled press conference last week to address the matter, fueling reports that a financial settlement had been reached between Uchitel and Woods.
After the crash, Us Weekly reported that a Los Angeles cocktail waitress named Jaimee Grubbs claims she had a 31-month affair with Woods.
Woods issued a statement last week indicating he had let his family down and citing unspecified "transgressions" that he regretted with "all of my heart." The golf star did not elaborate.
Click here for photos of the car crash.
Click here for more from MyFoxOrlando.com.
The Associated Press contributed to this report.