Sister of Dad Who Killed Family Calls Him 'Compassionate, Loving Father'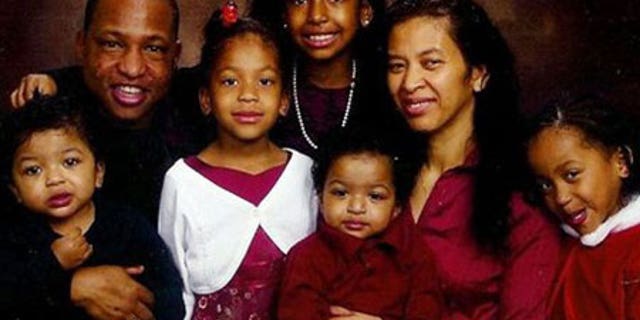 The last time Yolondo Lupoe saw her brother, he seemed to be enjoying life with his wife and five children. He fired up a barbecue and put an inflatable bouncy house and pinata in the backyard to celebrate his twin boys' second birthday.
Six months later, police say, he shot them all dead at their Wilmington house, then turned the gun on himself.
He and his wife had lost their jobs, were awash in tax debts and didn't know how they would support the family — a sharp contrast to the carefree couple who Lupoe visited in July.
"They were an amazing, happy, tight-knit family, just like their family picture," Lupoe, 37, told The Associated Press on Monday. "They were laughing, constantly smiling."
The image from that sunny day last summer is one she cannot reconcile with the reality in which she now finds herself.
Police say Ervin Lupoe killed his wife Ana, their 8-year-old daughter and two sets of twins, 2-year-old boys and 5-year-old girls, the evening of Jan. 26 before killing himself the following morning.
"Why?" she asked. "Why did any of this have to happen?"
Yolondo Lupoe recalls the children running around, giggling uncontrollably at the birthday party. When one of the two boys seemed overwhelmed, his father picked him up and comforted him.
"I found my brother to be a very compassionate, loving father and very loving toward his family," Yolondo Lupoe said. "He was very protective and loving."
She said her older brother never had any mental problems. She blamed his actions on desperation after learning he and his wife were fired from their jobs as hospital technicians at Kaiser Permanente West Los Angeles Medical Center.
"They saw no hope," she said. "I can imagine things piling on top of them. Constant no hope."
Before he killed himself, Ervin Lupoe faxed a letter to a local TV station saying he had expressed frustrations with a hospital administrator. The couple had been fired after they lied about their income in order to qualify for cheaper child care, police said.
A few months after the birthday party in Wilmington, Yolondo moved to South Korea, where she teaches English. She flew back into Los Angeles on Thursday after learning of the deaths.
"It's just unbelievable and unthinkable," she said, her voice choking with grief.
Ervin Lupoe and the couple's twin sons will be buried in California, but Yolondo Lupoe declined to say where exactly her brother would be buried.
The body of his wife will be returned to Guatemala along with the bodies of the couple's three daughters. Ana Lupoe was a dual Guatemalan and U.S. citizen.
Two memorial services will be held, one in Spanish on Wednesday, the other in English the following day, relatives said.