Second Day of Protests on UCLA Campus Over Fee Increase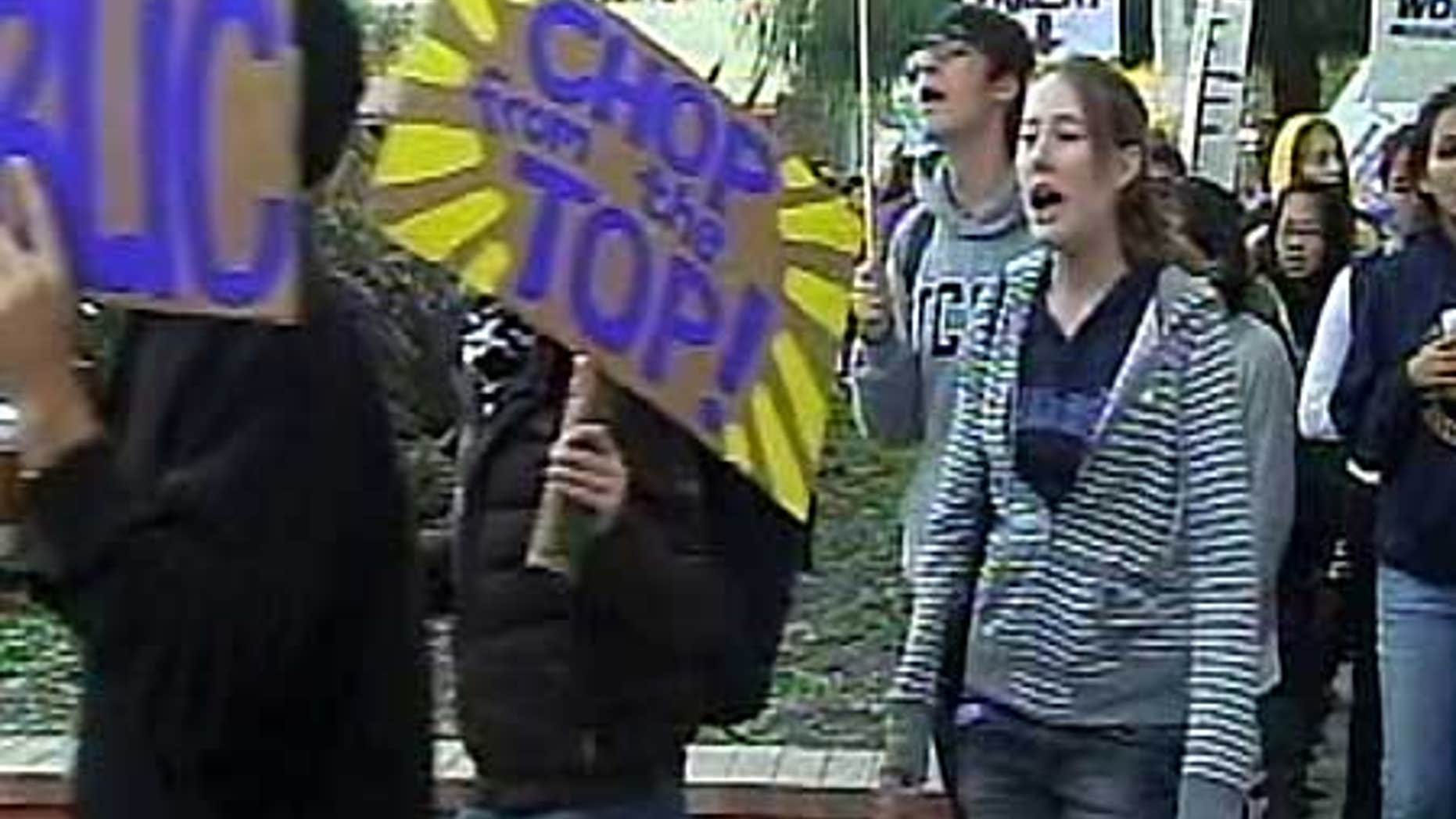 LOS ANGELES – Officers armed with beanbag guns stood by as hundreds of protesters chanted, marched and even took over a building Thursday on the UCLA campus, where University of California regents voted on and approved a 32 percent student fee increase.
The UC Board of Regents boosted undergraduate fees — the equivalent of tuition — by $2,500 next year. The average annual fee for a full-time undergraduate would jump to about $10,300 — three times the cost only a decade ago.
For a second day, the proposal drew demonstrators to the University of California, Los Angeles. Some came from other UC campuses and stayed overnight in a tent city.
The demonstrators outside UCLA's Covel Commons building chanted, beat drums and waved signs urging "No fee hikes" and "Wanted: Leadership."
One student was arrested for obstructing an officer. She was cited and released, said UCLA spokesman Phil Hampton.
Campus police in helmets with face shields stood guard outside the conference building. The campus was also being monitored by police from several UC campuses and more than a dozen California Highway Patrol officers armed with beanbag-tossing shotguns.
Laura Zavala, 20, a third-year UCLA student, said she may have to get a second job to afford the increase.
"My family can't support me. I have to pay myself," she said. "It's not fair to students, when they are already pinched."
Ayanna Moody, a second-year pre-law student, said she might have to return to community college next year.
"I worked so hard to be at one of the most prestigious universities. To have to go back, it's very depressing," she said.
"I think it's outrageous," she said of the fee increase. "They've already cut out a lot of our majors and programs. I'd rather they cut some of their (administrator) salaries."
About 30 to 50 protesters staged a takeover of Campbell Hall, a building across campus that houses ethnic studies, Hampton said.
They chained the doors shut but were peaceful and there were no immediate plans to remove them, Hampton said.
No arrests had been made, although 14 demonstrators were arrested on Wednesday and cited for failure to disperse or disturbing the peace.
Demonstrations also were held at other UC campuses.
UC President Mark Yudof told reporters Wednesday he couldn't rule out raising student fees again if the state is unable to meet his request for an additional $913 million next year for the 10-campus system.
"I can't make any ... promises," he said.
After a series of deep cuts in state aid, and with state government facing a nearly $21 billion budget gap over the next year and a half, Board of Regents members said there was no option to higher fees.
"When you have no choice, you have no choice," Yudof said after a Regents' committee endorsed the fee plan Wednesday. "I'm sorry."
The Los Angeles meeting was repeatedly interrupted by outbursts from students and union members, who accused the board of turning its back on the next generation.
"We are bailing out the banks, we are bailing out Wall Street. Where is the bailout for public education?" asked UCLA graduate student Sonja Diaz.
University of California, Irvine, economics student Sarah Bana told the board,
"You are jeopardizing California's future."