Sailor Who Made Controversial Video of Dancing Shipmates Slain in Murder-Suicide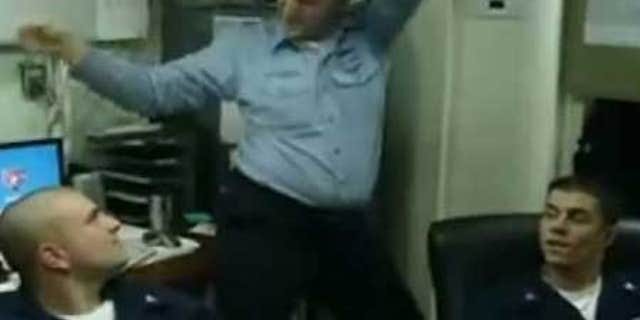 Financial problems may have led to the murder-suicide of a woman and her sailor boyfriend who posted a controversial YouTube video of his shipmates dancing, MyFOXDC.com reported.
Electronics Technician 2nd Class Michael Joseph Missimer was shot and killed Jan. 27 by his 43-year-old live-in girlfriend, who then took her own life, police in Annapolis, Md., said.
Helen Clapsaddle had recently lost her job and was having money problems with her previous employer, police said.
"Right now we've determined there may have been some financial problems between the two," said Sgt. Gilmer told MyFOXDC.com.
While serving aboard the aircraft carrier Enterprise, Missimer filmed and edited a five-minute video of his shipmates dancing and spoofing a YouTube clip known as the "Numa Numa video," the Navy Times, reported.
His video, called "Enterprise Numa Numa," has been viewed almost 2 million times on YouTube.
The man in charge of Missimer's unit told the Navy Times that not everyone liked the spoof, which wasn't made for public distribution.
"He caught a lot of flak about that," Petty Officer John Fallowfield said. "It was just something they pulled together when they had some time on the carrier ... we did this with the understanding it would be in-house."
Police say Clapsaddle called 911 shortly after midnight telling them that when police arrived at her apartment, they'd find two people dead — including her, MyFOXDC.com reported. She abruptly hung up.
The couple lived together at the Harbour Gates Apartment Complex in Annapolis.
Click here to read more on this story from the Navy Times.
Click here to read more on this story from MyFOXDC.com.