Report: N. Korea Plans to Launch Long-Range Missile Within 2 Weeks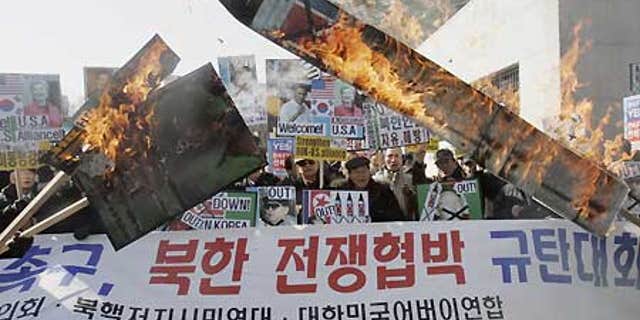 North Korea plans to test a missile capable of reaching the continental U.S. within the next two to three weeks, Seoul's defense chief reportedly said Wednesday, as South Korea and the U.S. warned Pyongyang of sanctions and other consequences.
Defense Minister Lee Sang-hee made the prediction during a closed-door report to ruling Grand National Party leaders, Yonhap news agency said, citing unnamed participants.
The ministry said it cannot confirm the report. GNP spokeswoman Cho Yoon-sun was not available for comment.
North Korea is believed to be gearing up to test-fire its longest-range missile, the Taepodong-2, moving the rocket and other equipment to a launch site on the country's northeast coast. South Korean media have said a firing could come this month.
"They appear to be serious. This is no bluff," a senior U.S. Defense official told FOX News. "It could look like an attack on the U.S., but it won't be."
Click here for photos.
The U.S. Navy has put its Aegis radar anti-missile defense system on alert but has stopped short of putting the interceptor missiles on high alert. U.S. intelligence has seen North Koreans move the components for a missile launch into place in recent days.
Earlier Wednesday, Foreign Minister Yu Myung-hwan warned the North that a missile launch will "inevitably" entail sanctions because it would be a violation of a 2006 U.N. Security Council resolution banning Pyongyang from pursuing missile or nuclear programs.
Secretary of State Hillary Rodham Clinton, while visiting Japan as part of her Asian trip, warned Tuesday that a missile launch "would be very unhelpful in moving our relationship forward."
Amid growing international pressure to drop the plan, Pyongyang said earlier this week that it has the right to "space development" — a term it has used in the past to disguise a missile test as a satellite launch.
When Pyongyang conducted a ballistic missile test in 1998, it claimed it put a satellite into orbit. The regime carried out its first-ever nuclear test blast in 2006, and claims it has atomic bombs.
"If the North launches a missile or a satellite, it would be a violation of the U.N. Security Council resolution," Yu told a forum organized by the Korea Foundation, a government agency that promotes exchange with foreign countries. "It can't help but inevitably bring sanctions."
Yu said the North's nuclear capabilities make its missile program all the more worrisome.
"If nuclear capabilities are combined with long-range missile capabilities, it would have a very serious effect on international peace and security and pose decisive threats to neighboring countries and South Korea as well," he said.
North Korea has not shown any direct reaction to the warnings from Seoul and Washington.
But Pyongyang's official Korean Central News Agency said Tuesday the country won't give in to "threat and blackmail from the U.S.," accusing Washington of planning to invade the North — an allegation that Washington and Seoul have long denied.
International talks to rid the North of nuclear programs are stalled over Pyongyang's refusal to verify its past atomic activities. The negotiations bring together China, Japan, the two Koreas, Russia and the United States.
On Wednesday, South Korea's Dong-a Ilbo newspaper reported that the North has been secretly running an underground uranium enrichment facility near the country's main nuclear complex in Yongbyon, north of Pyongyang. The paper cited an unnamed senior South Korean government official.
Yu said he "knows of nothing" regarding the report, and declined further comment, citing the sensitivity of intelligence matters.
The current nuclear standoff flared in late 2002 after Washington raised allegations that Pyongyang had a clandestine nuclear program based on enriched uranium in addition to a separate one based on plutonium.
North Korea has strongly denied the allegations.
Amid the tensions, South Korea and the United States plan to conduct an annual military exercise next month.
The drill, dubbed Key Resolve and Foal Eagle, is to run from March 9-20 and involve about 26,000 American and 20,000 South Korean soldiers and a U.S. aircraft carrier, officials from both sides said Wednesday.
North Korea calls such drills a rehearsal for invasion, despite repeated assurances from the U.S. and South Korea that the exercises are purely defensive.
FOX News' Jennifer Griffin and Justin Fishel and the Associated Press contributed to this report.