Paralyzing Storm Could Cost Recession-Hit Britain Millions More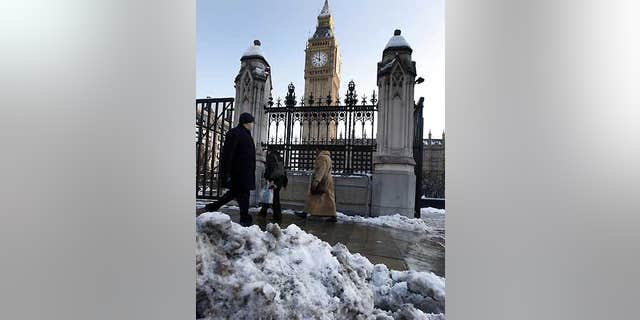 LONDON – London worked to clear the soggy remnants of the paralyzing snowstorm on Tuesday as businesses counted the multibillion dollar cost.
An estimated 6 million people skipped work Monday when the largest snowstorm to hit London in 18 years stopped bus and subway service, grounded airliners and hobbled businesses.
The Federation of Small Businesses said the cost to Britain's economy through lost productivity could be as high as $4.3 billion.
Transportation officials, business leaders and local authorities accused one another of failing to prepare for the long-predicted storm that crippled Britain's transport network by dropping more than four inches of snow in London overnight Sunday, and another four inches Monday.
"We can't change nature and if nature does this to us we have a problem," said John Ransford, chief executive of Britain's Local Government Association, which represents the small district and town councils largely responsible for keeping roads and sidewalks clear.
London Mayor Boris Johnson said many of the city's authorities simply didn't have enough snow plows to deal with the downfall. In the borough of Fulham and Hammersmith, the local authority said it had no plows and only two machines to salt roads.
The Association of British Insurers said that car accidents on Britain's icy highways surged on Monday, with claims for damage 30 percent than normal.
Most airports, bus routes and subway lines in London were working as normal, but more than 1,000 British schools remained closed and thousands of workers were staying home for a second day.
David Frost, director general of the British Chambers of Commerce, said few people raised in the freezing British winters of 1960s and 1970s could understand the failure to prepare.
"I wonder whether we have become a bit too complacent, or we are being a bit too bowled over by the constant talk of global warming," he told BBC radio. "We should be perhaps planning on the basis that there is more freak weather about and we shouldn't just buckle to it."
Many Londoners noted that bus services had continued through World War II and paused only for around an hour during the 2005 transit network suicide bombings.
Some suggested that British workers had set a poor example for the nation's children. Young Britons may become adults who think that "when things get difficult you should just stay at home and have fun," said Margaret Morrissey, of the parenting lobby group Parents Outloud.