Pakistan Insists Nuke Scientist's Network is Dismantled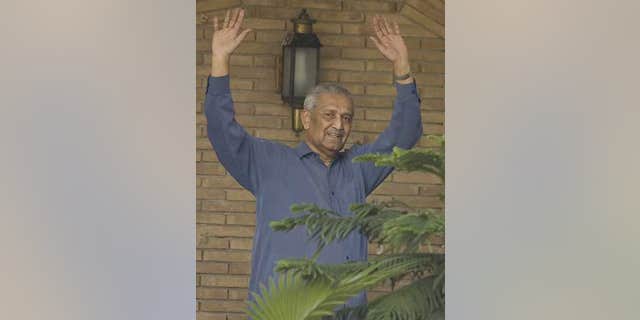 ISLAMABAD – Pakistan defended Saturday the easing of restrictions on Abdul Qadeer Khan, saying the man who once confessed to passing nuclear secrets to Iran, North Korea and Libya no longer posed a risk because his smuggling network had been dismantled.
Click here for photos.
Foreign Minister Shah Mehmood Qureshi said in remarks broadcast on Pakistani television that the government had "extracted the information that was required" from Khan.
"We have successfully broken the network that he had set up and today he has no say and has no access to any of the sensitive areas of Pakistan," Qureshi said. "A. Q. Khan is history."
Khan emerged from five years of de facto house arrest on Friday after a court declared him a "free citizen" subject to a secret agreement with the government.
The move alarmed the new U.S. government, which has made countering the spread of nuclear weapons to countries including Iran a top foreign policy priority.
The White House said President Barack Obama wants assurances from Pakistan that Khan isn't involved in the activity that led to his detention. State Department spokesman Gordon Duguid said Khan remained a "serious proliferation risk."
Pakistani Prime Minister Yousuf Raza Gilani said Saturday that international concern about Khan's new freedoms "would be taken care of." He didn't elaborate.
How much latitude has been granted to Khan, who has begun distancing himself from his confession and denying he did anything illegal, remains unclear.
Khan's wife told The Associated Press on Saturday that her husband, a 72-year-old who has suffered from a string of illnesses including cancer, was receiving friends at home.
Hendrina Khan said their visitors were still subject to security checks and one of a dozen plainclothes security officers outside his house on Saturday told an AP reporter that the government didn't allow Khan to speak to the media.
Khan was detained in December 2003, and admitted on television in early 2004 that he operated a network that spread nuclear weapons technology around the world.
He was immediately pardoned by former President Gen. Pervez Musharraf and placed under de facto house arrest.
Unanswered questions remain about the technology Khan allegedly shared and with whom he shared it, and whether Pakistani authorities knew what he was doing or profited from sales.
Khan began agitating for an end to the restrictions on him after Musharraf was ousted last year, and on Friday an Islamabad court declared him a "free citizen," — subject to a confidential accord with the government.
Khan later told reporters outside his house that "I have got my freedom."
However, he indicated he would not be discussing Pakistan's atomic bomb program or who else might have been involved in leaking its technology around the world.
"We don't want to talk about the past things," Khan said.
Hendrina Khan said her husband was free to move around only in the capital and that an existing gag order barring him from discussing proliferation had been widened.
The issue is a distraction for authorities engaged in a bloody struggle with Taliban militants who have gained ground in both Pakistan and neighboring Afghanistan.
In the latest incidents, police said a bomb killed seven officers at a checkpoint in the town of Mianwali, and assailants burned two trucks at a depot used for supplies heading to U.S. and NATO forces in Afghanistan.
On Friday, Pakistani authorities said helicopter gunships had killed 52 militants in two raids near the Afghan border.