Man Dies During G20 Protests, After Bank Stormed
By ,
Published January 14, 2015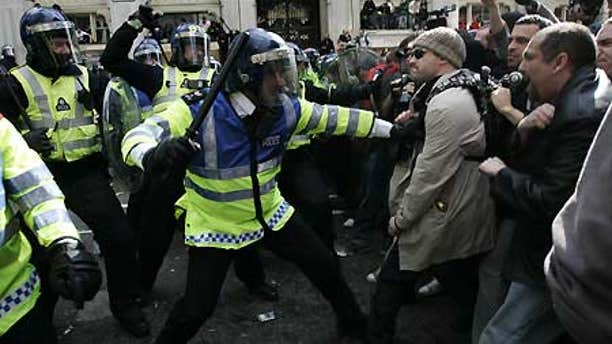 Authorities have confirmed a protester has died during the G20 protests in London.
The news came as Scotland Yard vowed to track down and prosecute those who attacked officers and stormed a bank during a day of unrest in the City of London.
London Bankers Dress Down to Blend In.
Police said bottles were thrown at them while they carried him away, near the bank of England.
Riot police had to be sent in after activists broke into a branch of the Royal Bank of Scotland.
A handful of people with black scarves obscuring their faces and hoods over their heads smashed a hole in the windows with a metal pole and crawled in. Protesters removed equipment, daubed graffiti on the walls, threw a chair through a window and started a small fire.
Police entered the branch at around 2pm and shortly afterwards began driving demonstrators away from the Threadneedle Street branch, which had earlier been closed by RBS.
Officers on foot backed up by a line of mounted officers lined up outside the building as smoke bombs were thrown by a baying crowd.
At least one police officer was hurt as the RBS branch became a flashpoint.
Click here to read more on this story from Sky News.
https://www.foxnews.com/story/man-dies-during-g20-protests-after-bank-stormed