Lakers Take 3-1 Lead Over Magic With OT Win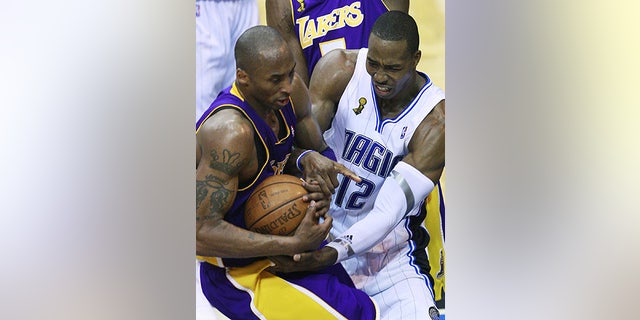 ORLANDO, Fla. – The Los Angeles Lakers took a 3-1 lead the NBA finals Thursday, rallying to beat the Orlando Magic 99-91 in overtime to move within one win of a 15th championship.
Derek Fisher hit the tying 3-pointer with 4.6 seconds left in regulation, then made the go-ahead 3 with 31 seconds to go in extra time as the Lakers won their second overtime game of the series.
It was the first time since 1984, when Magic Johnson's Lakers and Larry Bird's Celtics hooked up, that two games in a finals have gone to overtime.
Kobe Bryant had 32 points, eight assists and seven rebounds for the Lakers, who can wrap it up Sunday in Game 5 here.
Trevor Ariza and Pau Gasol each had 16 points for Los Angeles, which came back from a 12-point halftime deficit. Ariza had 13 of the Lakers' 30 points in the third quarter.
The Lakers are 7-0 following a loss in this postseason.
Unless they can force a Game 6, the Magic will remember this as another finals game that got away.
Dwight Howard was magnificent everywhere but at the free-throw line. Orlando's superman of a center had 16 points, 21 rebounds and a finals-record nine blocks. But he made just 6 of 14 foul shots, and it was his two crucial misses with 11.1 seconds to go in regulation that doomed the Magic.
First, Fisher, who has made a career of hitting memorable shots in crucial situations, pulled up and without hesitating dropped a 3-pointer over Orlando's Jameer Nelson with 4.6 seconds left to tie it 87-87. The shot stunned the Magic's maniacal crowd, which was hoping the home team could win its second straight finals game after dropping its first six.
Fisher had missed his first five 3s, but came up with one the little left-hander will cherish forever.
Just as they did in Game 2, Orlando had one final try, and this time guard Courtney Lee, who misfired on a tougher-than-it-looked layup in that loss, wasn't on the floor. The Magic inbounded the ball to Mickael Pietrus, but his long and contested jumper was off.
Bryant scored two quick baskets in the overtime, and Howard tied it when he split two free throws with 1:27 remaining.
On L.A.'s next trip, Ariza grabbed his own miss to get another 24 seconds and Fisher lined up and drilled his 3-pointer from the top of the key to make it 94-91.
As he retreated down court and Orlando called a timeout, the Lakers bench stormed onto the court and surrounded the popular 34-year-old Fisher, who came back to the team after a short stint in Utah.
Dwight Howard had 16 points, 21 rebounds and a finals-record nine blocked shots, but he was just 6 of 14 from the free throw line as the Magic failed to put away the game in regulation.