Jennifer Hudson, Coldplay, Tim McGraw Launch Grammy Weekend With Tribute to Neil Diamond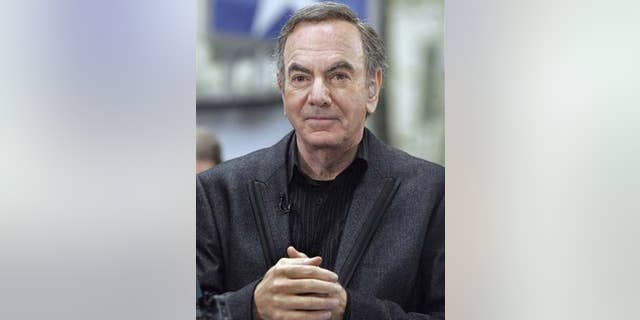 LOS ANGELES – Jennifer Hudson's stirring vocals on "Holly Holy" and Coldplay's stripped-down version of "I'm A Believer" helped take Neil Diamond on a musical journey of his career.
They joined Foo Fighters, Tim McGraw and many others in launching Grammy weekend with performances honoring the 68-year-old Diamond as MusiCares Person of the Year.
The music industry charity celebrated Diamond for his philanthropy, which included donating concert merchandise sales last fall to relief efforts for Texas areas ravaged by Hurricane Ike.
Surrounded by his children and grandchildren, Diamond listened as more than 50 years of what he called "my little musical creations" were interpreted for 2,200 people at the Los Angeles Convention Center.
"I love you for it," he told the crowd.
The singer-songwriter thanked his mother, Rose, who was in the audience, recalling how his parents bought him a $10 guitar as a youngster in Brooklyn.
"They paid it off a dollar a week for 10 weeks," he said. "It was a good investment, Mom. You invested $10 and made a life for me."
Jonas Brothers kicked off the show with "Forever in Blue Jeans."
"Aren't they adorable?" host Jimmy Kimmel joked. "These kids wouldn't even have sideburns if it weren't for Neil Diamond."
Kid Rock did "Thank the Lord for the Night Time."
Diamond slow-danced with Faith Hill during their duet on "You Don't Bring Me Flowers" and kissed her hand.
He got the crowd on its feet for "America" and kept them there for a singalong finale to "Sweet Caroline." In the audience, comedian Sarah Silverman wrapped her arms around boyfriend Kimmel as they swayed to the music.
In a nod to Diamond's sparkly duds of the '70s, Kimmel told him he was "one of the few Jews who look good in sequins."
The unlikeliest performers were Los Volcanes, a Tejano group from south Texas that did "Red Red Wine."
In a taped piece, Diamond said he found himself chatting with band accordionist Eddie Rodriguez when he misdialed while making a phone call to Pearl Jam singer Eddie Vedder.
Diamond learned that Rodriguez was in a band and had him send a demo tape, leading to the gig.
The group earned a standing ovation.
British singer Adele sang "Cracklin' Rose" while wrapping her heavily bandaged right thumb around the microphone. Chris Cornell offered up "Kentucky Woman," while Raul Malo did Diamond's big hit "Solitary Man."
Cassandra Wilson and trumpeter Terence Blanchard teamed for a jazzy take on "September Morn," Eric Benet crooned "Heartlight" from the movie "E.T." and Tim McGraw sang "Hello Again."