Holocaust-Denying Bishop Fights With Reporter on Way Out of Argentina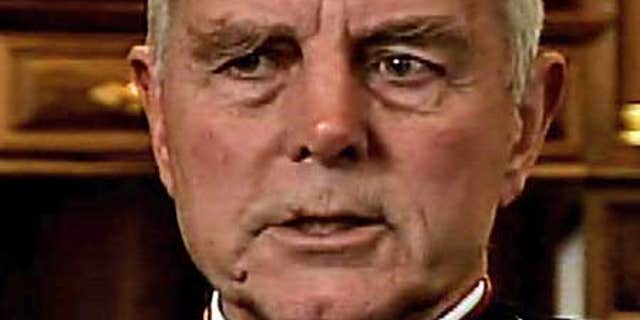 BUENOS AIRES, Argentina – A Holocaust-denying bishop flew out of Argentina under a government expulsion order on Tuesday after scuffling with a reporter at the airport.
A local television station showed Richard Williamson raising his fist toward a reporter, then shoving him into a pole with his shoulder as he hurried through Buenos Aires' Ezeiza international airport to catch a flight for London.
Argentina's government on Thursday ordered the traditionalist Catholic bishop to leave the country or face expulsion, citing his failure to declare a job change as required by immigration law as well as his denials of the Holocaust, which it called "an insult" to humanity.
Pope Benedict XVI sought last month to help heal a rift with ultra-traditionalists when he lifted a 20-year-old excommunication decree imposed on Williamson and three other bishops who had been consecrated without Vatican approval.
The pope's action immediately caused an uproar among Jewish groups. Swedish state television last month broadcast a November interview in which the British bishop asserted that no Jews were gassed during the Holocaust and only 200,000 to 300,000 were killed, not 6 million.
That prompted the pope to insist that Williamson recant before he can be recognized as a Roman Catholic bishop.
The Anti-Defamation League also found records of embarrassing speeches and letters by Williamson when he was based earlier at a seminary in Winona, Minn. He was quoted in one 1989 speech as saying that "Jews made up the Holocaust, Protestants get their orders from the devil and the Vatican has sold its soul to liberalism."
He was quoted as asserting that "the Jews created the Holocaust so we would prostrate ourselves on our knees before them and approve of their new state of Israel."
Williamson's conservative Society of St. Pius X distanced itself from Williamson's views and announced on Feb. 9 it had removed him as head of a seminary in Buenos Aires. The government then ordered the bishop to leave. Argentina has Latin America's largest Jewish population.
Argentina's Interior Ministry said in a news release that Williamson departed on a flight to London on Tuesday.
Images broadcast on Buenos Aires' Todo Noticias television showed Williamson—wearing a baseball cap, a black fleece jacket and dark sunglasses—hurrying through the airport when television reporter Norberto Dupesso moved alongside Williamson to ask a question.
Williamson, his lips tightly pursed in a grimace, raised a clenched fist inches from Dupesso's face, then pushed past, shoving Dupesso into a pole with his shoulder. Two men accompanying the bishop then grabbed Dupesso by his shoulders and held him back by while Williamson hurried away.