'Gunman' at University of South Florida Campus Never Found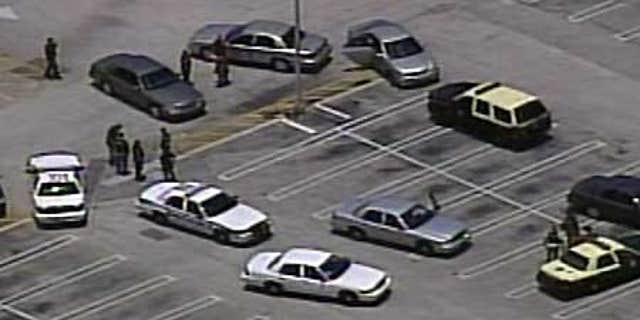 A man who allegedly called University of South Florida police and said he had a gun never was found after a broad sweep of the campus, which was placed on lockdown during the scare.
The all-clear was issued Friday about 2 p.m. after students had been holed up in their dorms and classrooms while police looked for the supposed gunman. No shots were fired.
Authorities had been combing the Tampa campus for a potentially suicidal shooter who may have been looking for his girlfriend, WTVT reported.
University police got a call about 12:15 p.m. Friday from the Hillsborough County Sheriff's Office, which said a man had called a crisis hot line to say he was in a parking lot next to a campus bioscience building.
He said he had a gun and was willing to use it, said Maj. J.D. Withrow, assistant chief of the university police.
Authorities swept the area but found no one with a gun.
Click here for more on this story from MyFOXTampaBay.com.
About 15 minutes after the got the call, the university sent a mobile emergency message telling some 55,000 people to stay inside with their doors locked. They were notified an hour-and-a-half later that they could return to their normal activities.
"The University Police Department and the Tampa Police Department have investigated the area," the school said on its Web site. "Please resume activities as normal. We will update information as it becomes available."
Earlier, USF warned students to lock their doors, stay in and avoid the area near the building where the gunman was seen.
"You don't see people running around like it's mass chaos," junior Lynn McPhearson, 21, told The Associated Press.
McPhearson said he had been in the Marshall Center for about an hour and could see the bioscience building from the window. A group of parents and students on campus for orientation also were inside.
Jon Catuccio, who works at the school, said that a little before noon someone said over a loudspeaker that a gunman had been reported at the bioscience building in the heart of campus and people should stay inside.
He said he got an e-mail with the same information and everyone was "kind of hanging out" and waiting to see what happens.
Student Lawrence Stawkowski, 24, saw three helicopters flying around and said an alarm went off every 15 minutes.
"I wasn't too afraid," he said. "I was just surprised, a little shocked."
The late summer term at USF just ended, so there were fewer students than usual on campus, said Allyson Stanfill, 21, who was stuck inside a lab across the street from the bioscience building.
The Associated Press contributed to this report.