France Celebrates World Cup Clincher Despite Cheating Admission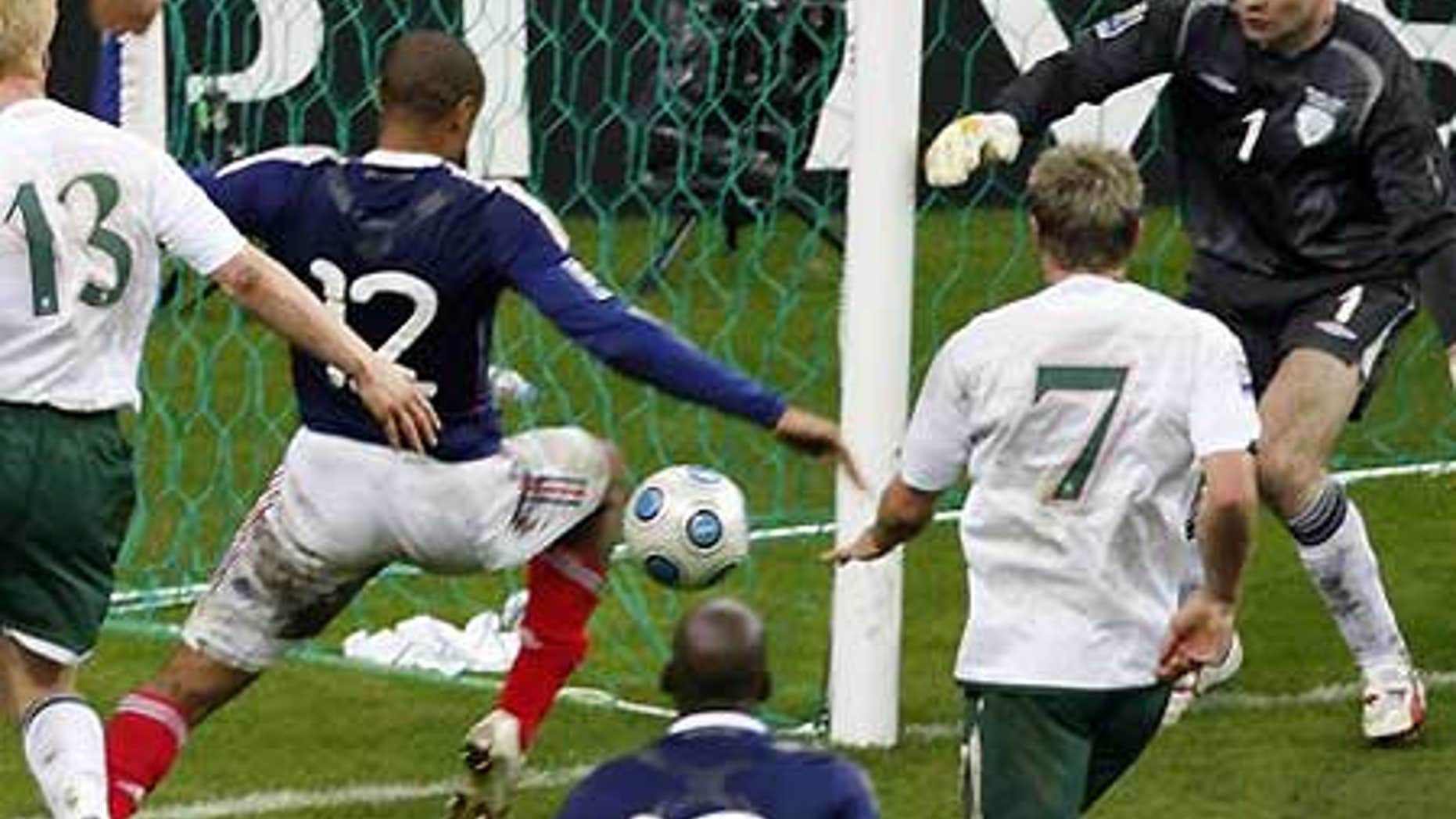 PARIS – A deflected goal in Ireland and a handball in France were enough to help the French reach the World Cup, but Raymond Domenech's team looks far from convincing and the coach even admitted it was "miraculous" to squeeze through.
France will be in South Africa next year in its fourth consecutive World Cup, but many questions remain whether Domenech's team has what it takes there after being outplayed by Ireland in Wednesday's 1-1 draw.
"It was difficult, arduous and sometimes miraculous," Domenech said. "It was a victory by the skin of our teeth."
Make that the palm of Thierry Henry's hand.
France needed an extra time goal from Arsenal defender William Gallas, but in the build up to the goal veteran striker Henry clearly handled the ball— twice—before toe-poking it up to Gallas to head in from one yard (meter) out.
Gallas' goal made it 1-1 on the night and sent France through 2-1 on aggregate after Nicolas Anelka scored in the second half at Croke Park on Saturday with a shot that deflected past goalkeeper Shay Given to give France a 1-0 win.
The Irish players were furious—and with reason.
Henry, a close friend of San Antonio Spurs guard Tony Parker, patted the ball down like a basketball player before remembering to use his feet. Henry and his former Arsenal teammate Gallas were also offside on the initial free kick.
"Allow me a little moment of happiness," Domenech said, claiming he didn't see that incident—even though he was outraged Anelka was not awarded a penalty earlier in extra time.
"For two years now, we've been fighting, struggling, hanging on, we've been criticized from all sides," Domenech said.
Former France midfielder Emmanuel Petit was outspoken in his criticism, while former playmaker Zinedine Zidane and goalkeeper Fabien Barthez watched nervously at Stade de France.
"There is nothing glorious about this," Petit told L'Equipe's Web site. "Most of the players failed to perform."
Petit, who scored the third goal when France beat Brazil 3-0 in the 1998 World Cup final, thought Ireland "dominated in every department."
Henry admitted the handball but laid the blame on Swedish referee Martin Hansson for not blowing the whistle.
"I played it. The ref allowed it. That's a question you should ask him," Henry said.
Henry, praised for his sense of fair play during his time at Arsenal, was unrepentant.
"No, no, we're qualified," Henry said when asked if he regretted his handball.
France was the last European team in Wednesday's playoffs to get through, joining Portugal, Greece and Slovenia. Ireland's valor was not enough to avert a second straight failure to qualify after 2006.
With the football world's eyes focused on Stade de France as extra time ticked on toward a penalty shoot out, Henry's handball overshadowed the win. It will likely renew calls for the use of video technology in football.
For Domenech, huge doubts remain as to whether he has any real grip on the team.
Under Domenech, France reached the 2006 World Cup final, losing to Italy on penalties. But that team featured an imperious Zidane and an iron defense led by Lilian Thuram. Both are now retired.
France went out of last year's European Championship in the group stages without winning a game and Domenech has endured a bitter relationship with the French press, and even some of his players, since Euro 2008.
Florent Malouda previously overtly criticized Domenech, and Henry twice publicly denied reports of heated arguments—the first before France's game against Romania in September, the second in the team hotel in Dublin on Friday night.
Henry was upset that Domenech did not pick veteran midfielder Patrick Vieira against Ireland, and reportedly questioned Domenech's training methods before the Romania game.
Vieira's absence is not the only puzzling choice.
With France struggling to create chances as Ireland dominated, striker Andre-Pierre Gignac kept losing the ball, could not control the most basic pass, and looked petrified.
Sitting on the French bench was Real Madrid forward Karim Benzema, one of Europe's most highly-rated young strikers. Yet even with France struggling, Domenech overlooked him, just as he has previously with David Trezeguet and Robert Pires.
Likely to be fired if France failed, Domenech glibly tossed aside testing questions after saving his job.
"I want to make the most of it," he said.