Female Khmer Rouge Defendant Blames Comrades in Genocide Trial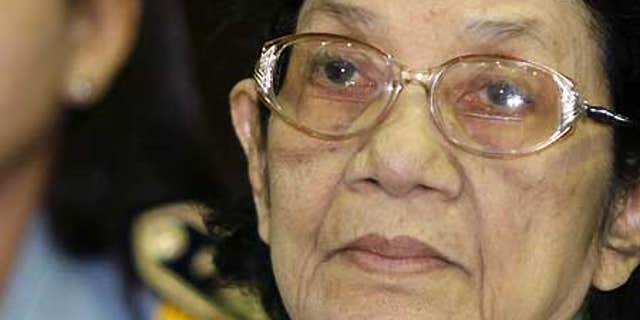 PHNOM PENH, Cambodia – The sole female defendant charged by Cambodia's genocide tribunal blamed two Khmer Rouge colleagues Tuesday for the atrocities the group is accused of committing in the late 1970s.
Ieng Thirith, 77, told the court that she had been "charged with a crime that I never committed."
The social affairs minister in the 1975-79 Khmer Rouge administration, Ieng Thirith spoke at a hearing on her appeal to the U.N.-assisted tribunal for release from pre-trial detention. She is one of five former senior Khmer Rouge being held for crimes against humanity.
An estimated 1.7 million Cambodians are believed to have died under the communist movement's regime as a result of starvation, disease and execution.
Her lawyer asked that she be freed for health reasons, and the presiding judge said a decision would be announced later.
In an angry tone, Ieng Thirith told judges that two other defendants — prison chief Kaing Guek Eav and Nuon Chea, the movement's chief ideologue — were responsible for killings by the regime.
"I have nothing to do with Nuon Chea, but I know he is the murderer, he killed people, killed my students ... don't link him with me," she told the hearing. Ieng Thirith had been a professor of English before the Khmer Rouge came to power.
She said anyone who tried to implicate her would be cursed to go to the seventh level of hell.
Kaing Guek Eav, better known as Duch, will be the first defendant to be tried. The tribunal announced Tuesday that his full trial will begin March 30.
Duch's trial began last week with two days of hearings on procedural issues. He is the only defendant to express remorse over his actions, and his lawyer said he does not challenge the factual basis of the indictment against him.
Ieng Thirith said she did not know Duch or where the S-21 prison he commanded was. The prison was a torture center where about 16,000 men, women and children suspected of disloyalty to the Khmer Rouge were held before being taken away to be executed.
Although she appeared frail at the hearing — two female guards at times had to help keep her upright in her seat — she also let her temper flare.
Her lawyer, Phat Pouv Seang, said that lack of sleep contributed to her apparent anger. He said her health has been deteriorating for a long time, an apparent reference to mental stress she is said to suffer.
Her husband Ieng Sary, 83, the regime's foreign minister, is also detained on charges of crimes against humanity. He was taken to a hospital Monday with a urinary tract problem, said tribunal spokesman Reach Sambath.
Ieng Sary is due before the court Thursday to appeal for release from detention.