FDA Warns Dog Treats May be Contaminated With Salmonella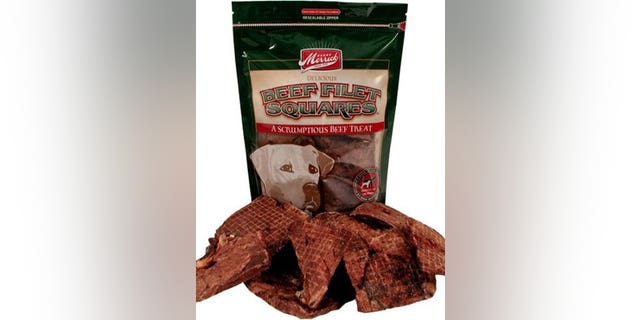 NEWYou can now listen to Fox News articles!
Consumers should not use certain beef dog treats distributed by Merrick Pet Care because the pet food might be contaminated with salmonella, health authorities warned on Thursday.
Merrick Beef Filet Squares for dogs were distributed nationwide through retail stores and the Internet. No illnesses linked to the products have been reported, according to the Food and Drug Administration.
The FDA warned that contaminated pet food could also infect people if they handled the dog treats and have not thoroughly cleaned their hands.
The Merrick Beef Filet Squares were packaged in a 10-ounce green, red and tan resealable plastic bag. They are labeled "best by 111911."
Last month, the FDA conducted routine testing of the treats and found evidence for salmonella. Another inspection found deficiencies in the packaging and manufacturing.
Humans infected with the salmonella can experience fever, nausea, vomiting, diarrhea and abdominal cramps. It could also cause more serious problems such as arterial infections, endocarditis, arthritis, muscle pain, eye irritation and urinary tract problems. In pets, salmonella can cause diarrhea, fevers, vomiting, loss of appetite, lethargy and abdominal pain.