Early Results Show Tight Race for al-Maliki, Secular Challenger in Iraq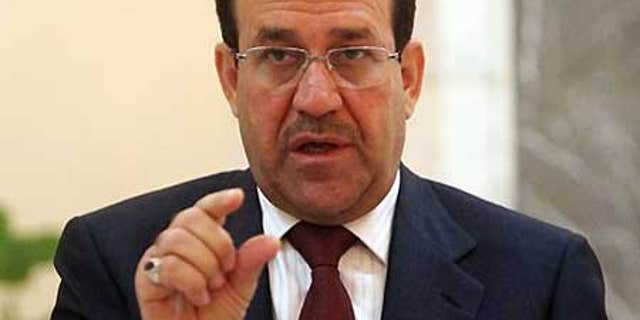 NEWYou can now listen to Fox News articles!
BAGHDAD – Partial vote results in Iraq's historic election released Thursday showed a tight contest between the nation's prime minister and a secular challenger during a chaotic count that was marred by accusations of fraud.
The preliminary tallies from five of Iraq's 18 provinces were a setback to hard-line religious Shiite political leaders who saw Prime Minister Nouri al-Maliki win early victories in two southern provinces deep on their turf.
SLIDESHOW: Iraqis Vote in Pivotal Election
Al-Maliki's top secular rival, former Premier Ayad Allawi, meanwhile, appeared to be drawing on Sunni support north of Baghdad. But results for the big prize — Baghdad — have yet to be counted and released.
At stake in the vote held Sunday is the right to guide Iraq's shaky stability as U.S. troops prepare to go home.
The partial results from the Independent High Electoral Commission were released in a chaotic monitoring room in Baghdad and tallies from the rest of the nation were likely to be released over the coming days.
No bloc was expected to gain an outright majority, meaning that those who do well will have to negotiate to form alliances and choose a prime minister. In an effort to cast himself as an inclusive leader for all Iraqis, al-Maliki quit the main Shiite coalition last year to create the State of Law alliance, which includes some Sunni groups.
Election officials said they had received about 1,000 complaints about the election process so far, although they gave no details. And Allawi's coalition, Iraqiya, described what they said were numerous instances of fraud, including "unjustifiable and illegal procedures to distort the will of the people."
With only a third of the vote counted, al-Maliki was leading in the mainly Shiite provinces of Babil and Najaf where his rivals in a Shiite religious coalition had hoped to make gains. Iraqiya, meanwhile, took the lead in the former Sunni insurgent strongholds of Diyala and Salahuddin, where only 17 percent of the vote was tallied by late Thursday.
Results from a fifth province, Irbil, were also released showing the Kurdish Alliance, which joins the two main Kurdish parties, beating out the upstart Kurdish party Gorran in the self-rule territory.
In Babil, al-Maliki's political bloc won more than 68,000 votes — nearly 14,000 more than the Iraqi National Alliance, which came in second. The INA is Iraq's top Shiite religious coalition and is made up of two main political parties — the Supreme Islamic Iraqi Council and the political party led by anti-American cleric Muqtada al-Sadr.
Similarly, al-Maliki edged the INA by more than 7,200 ballots in Najaf. A win in both Babil and Najaf would represent an improvement for al-Maliki's coalition over last year's provincial election.
"These results were expected and reflect the size of support with our list," said State of Law candidate Sadiq al-Laban in Najaf. "We extend our hands to any bloc that wants to work for a better Iraq."
But al-Maliki appeared to be lagging far behind Allawi's list in the central provinces of Salahuddin, which is mostly Sunni, and Diyala, which has a mixed population of Sunnis, Shiites and Turkomen.
Iraqiya was leading both al-Maliki's coalition and the INA by more than 30,000 votes in Diyala. Allawi also romped in Salahuddin by more than 20,000 votes over the next-closest challenger there, the Sunni-dominated Iraqi Accordance. Al-Maliki's coalition and the INA each earned fewer than 7,000 votes in the early count of Salahuddin, the tallies show.
The early vote count in Salahuddin and Diyala was far below the 30 percent threshold that election officials had said would be the standard for releasing results.
At the election headquarters in Baghdad, scores of journalists jostled for a view of the vote counts as they were posted on big-screen TVs. Election officials appeared overwhelmed by the task of counting and reporting the vote and seemed to have underestimated how long it would take. The election commission did not post the results on a Web site or make them otherwise accessible to the public, although the state-run TV channel reported the tallies Thursday evening.
Amid the confusion and counting, political parties and election monitors began raising concerns about fraud. Iraqiya issued a statement late Thursday saying security forces were turned away from the polls, political parties interfered with the balloting process and vote tallies were not announced and posted at each polling station as required.
Additionally, a British lawmaker with a team of European Commission election monitors said thousands of names of voters were missing or deleted from voting lists. Other problems, he said, included voter intimidation, ballot rigging and falsified ballots.
"We must tell the Iraqi people that the West is watching closely and that we will not tolerate any attempts to manipulate the results," said Struan Stevenson, a British Conservative member of the European Parliament. "Otherwise Iraq will again be plunged into a spiral of violence."
He urged the United Nations mission in Iraq to investigate all fraud claims.
The election news came as al-Maliki's office announced that the prime minister underwent surgery Wednesday for what an aide described as a "simple" procedure. The prime minister has already been released from the hospital and is back at work, the statement said.